Michael Griener
Submitted by
Mathias
on Thu, 2019-02-28 23:16.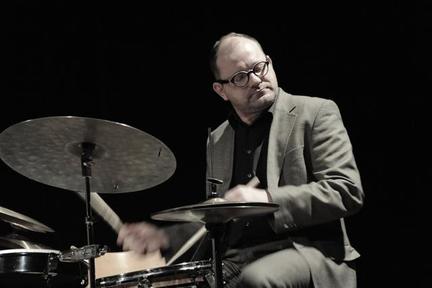 Born in Nuremberg, Germany in 1968, began playing drums in 1982, lives in Berlin since 1994.
Under the influence of the HOHE-UFER-concerts initiated by Günter Christmann he became involved early on in the various forms of Jazztradition, Free Improvisation and New Music, which led to a longer collaboration with Christmann in his Vario-projects (a.o. C.I.M.-Festival Den Haag 1990, Moers-Festival 1992, Wittener Tage für Neue Kammermusik1993).
He has worked frequently with dancers, actors and poets (most recently in a project on Paul Celan with German writer Oskar Ansull). His duo KIMMO ELOMAA with electronic wizard jayrope received a grant by the city of Berlin in 2002
Received the 1. price as "most creative soloist" at the "New German Jazz Award" in 2006
His current projects include a.o.: Uli Gumpert Quartet, TGW (Thieke-Griener-Weber), a Duo with Ernst-Ludwig Petrowsky, Lacy Pool, Squakk and Carl-Ludwig Hübsch' Primordial Soup
Michael Griener teaches jazz drumming at the University for Music "Carl Maria v. Weber" in Dresden and jazz-history and rhythm at the Jazzschule Berlin.
Played a.o. with Tal Farlow, Herb Ellis, Mal Waldron, Evan Parker, Ellery Eskelin, Dave Liebman, John Zorn, Butch Morris, Ken Vandermark,Ernst-Ludwig Petrowsky, Barry Guy, Paul Lovens, Zeena Parkins, Keith Tippett, Sirone, Uli Gumpert, Aki Takase, Mats Gustafsson, Alexander v. Schlippenbach, Joelle Leandre, Günter Christmann, Conny Bauer, Johannes Bauer, Frank Gratkowski, Phil Minton, Tony Buck, Matthias Schubert, David Moss, Axel Dörner, Lu Hübsch, Claudio Puntin
CD-releases a.o. on Hat Hut, Intakt, FMP, Jazzwerkstatt, Moers Music, Gligg Records, NRW, between the lines, Konnex, Mons Records, Laika Records, Hybrid