MICHAEL HURLEY
Submitted by
Melodie
on Thu, 2012-02-16 15:55.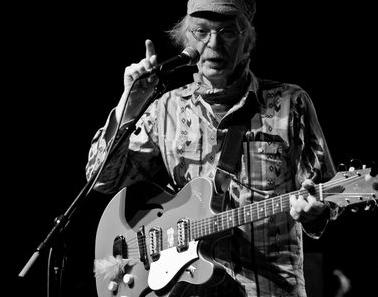 Tracing the lineage and citing the fore-bearers of the New Weird America, one can't help but mention the music of bizarre folk singer/guitarist/artist Michael Hurley. If you haven't been following his career since the 1970's (when he was collaborating with the likes of the Holy Modal Rounders and Jesse Colin Young) then you probably discovered him in the past couple of years via Devendra Banhart's & Andy Cabic's label Gnomonsong, who have released Hurley's recent recordings.
Hurley's debut album, First Songs, was recorded for Folkways Records in 1965 on the same reel-to-reel machine that taped Lead Belly's Last Sessions. He was discovered by blues and jazz historian Frederick Ramsey III, and subsequently championed by boyhood friend Jesse Colin Young, who released Hurley's next two album on The Youngbloods' Warner Brother's imprint, Raccoon. How's that for cred?
In the 1970s, Hurley made three albums for Rounder Records; Have Moicy! (1975), Long Journey (1976), and Snockgrass (1980) which after being out of print for decades are now being reissued on Light In The Attic Records.
In recent years, tours with Son Volt and high praise from younger performers like Lucinda Williams, Vic Chesnutt, Calexico, and Cat Power, have increased Hurley's legend. (Light in The Attic Records)