MoNNo
Submitted by
Mathias
on Tue, 2014-09-30 22:44.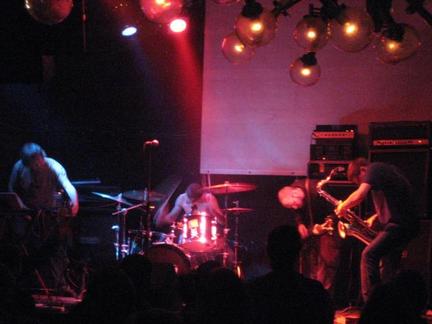 MONNO was formed in 1999 in Lausanne, Switzerland and then relocated in Berlin in 2003.
The band recorded 4 albums and played 150+ shows all around Europe touring and sharing stages with bands like KNUT, ISIS, JESU, LIGHTNING BOLT, MELT BANANA, ZU, TODD, SHIT & SHINE, MARDUK & TONY CONRAD.
MONNO's music is in constant mutation. Their first album, Candlelight Technology (2003) featured a weird mix of heavy rock, free jazz and electronic textures. Error (2005) was a powerfull and dirty trip of over the top noise rock (with a big emphasis on noise).
GHOSTS went again in a totally other direction and proposes ethereal drones, haunted doom-riffs and poisonous beats, creating a dark undertow between nightmarish paranoia and mysterious transcendence.
CHEVAL OUVERT, their last offering, immerses the listener into a brutal typhoon of intense abstraction. A wild ride on a furiously galloping horse that finds itself torn into pieces by human destruction. Monolithic stabs of distorted saxophone, infinite loops of electronic madness and the devastating pairing of a melting low-end bass and mammoth-like drums resulting in a rock solid wall of ancestral evoking frequencies.
http://idiosyncratics.limitedrun.com/products/521250-monno-cheval-ouvert
http://www.taz.de/1/archiv/digitaz/artikel/?ressort=ku&dig=2014%2F01%2F0...
http://www.ox-fanzine.de/web/rev/90903/reviews.207.html