MoNNo + Kommando Raumschiff Zitrone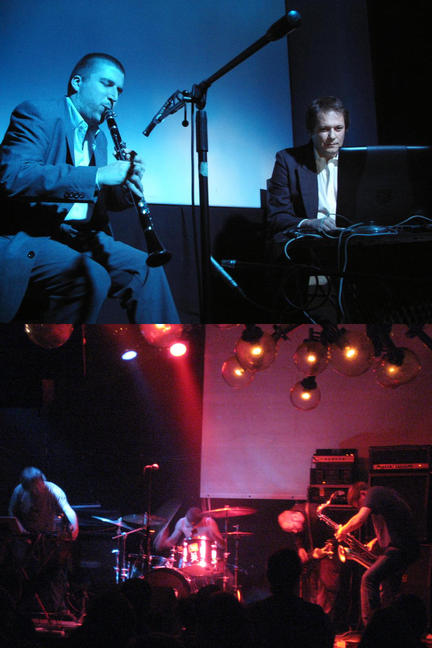 MoNNo
Marc Fantini - drums
Gilles Aubry - electronics
Antoine Chessex - tenor sax, amplifiers
Derek Shirley - bass
Kommando Raumschiff Zitrone
Kai Fagaschinski - clarinet
Christof Kurzmann - ppooll, devices, clarinet
MONNO was formed in 1999 in Lausanne, Switzerland and then relocated in Berlin in 2003.
The band recorded 4 albums and played 150+ shows all around Europe touring and sharing stages with bands like KNUT, ISIS, JESU, LIGHTNING BOLT, MELT BANANA, ZU, TODD, SHIT & SHINE, MARDUK & TONY CONRAD.
MONNO's music is in constant mutation. Their first album, Candlelight Technology (2003) featured a weird mix of heavy rock, free jazz and electronic textures. Error (2005) was a powerfull and dirty trip of over the top noise rock (with a big emphasis on noise).
GHOSTS went again in a totally other direction and proposes ethereal drones, haunted doom-riffs and poisonous beats, creating a dark undertow between nightmarish paranoia and mysterious transcendence.
CHEVAL OUVERT, their last offering, immerses the listener into a brutal typhoon of intense abstraction. A wild ride on a furiously galloping horse that finds itself torn into pieces by human destruction. Monolithic stabs of distorted saxophone, infinite loops of electronic madness and the devastating pairing of a melting low-end bass and mammoth-like drums resulting in a rock solid wall of ancestral evoking frequencies.
Kommando Raumschiff Zitrone
once upon a long time, when kai has been the commander of raumschiff zitrone (engl.: spaceship lemon), he became tired to fill that position on his own. alone! there came christof, still quite new to the city of berlin, and offered his helping hand. so one was the commanders of raumschiff zitrone from now on together.
for the big christmas-gala of the etablissement in the year 2002 the two met for the first time as commanders in music, and recorded a christmas-cd with the special charm, which is required for such a cause. their story continued with a few concerts for special occasions in berlin and vienna. in 2004 they produced their first full length album first time ever i saw your face in vienna, which was released in september 2006 with quincunx sound recordings (london). record release concerts were helt in berlin and new york.
Raumschiff Zitrone is long gone († 2006), but the Kommando lives on.
in their music the fusion and the contrast between clarinet and computer is the matter. with all the sense for the abstract and the sound as such, again and again their love for pop music nevertheless gleams through.
Doors: 8.30 pm
Concert start 9.00 pm
Supported by INM.