世界で一番美しい夜 | The most beautiful night in the world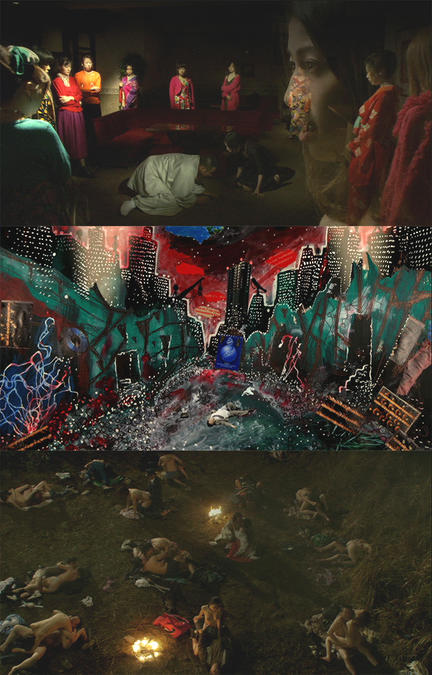 In einer Rahmenhandlung erzählt die 14-jährige Midori, wie es dazu kam, dass ausgerechnet ihr Provinzkaff die größte Geburtenrate Japans vorweisen kann.
Alles fängt damit an, dass der wegen einer vermeintlichen Vergewaltigung strafversetzte Journalist Kazuya in ihrem Städtchen auftaucht. Drei Personen rücken dort in den Mittelpunkt seines Interesses: die "verrückte" Shineko, die den Grad der Dummheit ihres Gegenübers an der Ausprägung ihres juckenden Ausschlags bestimmen kann; der Ex-Terrorist Nihei, der auf seinem Hausboot nur vermeintlich der Revolution abgeschworen hat; die Barbesitzerin Teruko, die ihre zwei Männer auf dem Gewissen hat und die Geister heraufbeschwören kann.
Aus purer Langeweile und Neugier versucht Kazuya herauszufinden, was es mit den beiden toten Liebhabern Terukos auf sich hat und fügt dabei die einzelnen Puzzle-Teile der Geschichte zu einem Ganzen zusammen.
Daisuke Tengan erzählt seine Parabel über die ewige Suche nach Glück und Genügsamkeit zumeist lakonisch, wobei die provinzielle Kulisse einen guten Teil zu dieser Ruhe beiträgt. Der trockene Humor erinnert an BALLAD OF NARAYAMA seines Vaters Shohei Imamura, der auch in einem Bergdorf spielt. Papas Einflüsse sind überhaupt allgegenwärtig, nur dass Tengan, der mittlerweile auch 50 Jahre alt ist, sein Autorenkino immer wieder mit nachwuchs-affineren, surrealen Animationssequenzen auflockert. Gnadenlose 160 Minuten dauert diese Mischung aus Zivilisationskritik und Erwachsenenmärchen, doch wer bereit ist, sich die Zeit dafür zu nehmen, wird aus THE MOST BEAUTIFUL NIGHT IN THE WORLD mit dem Gefühl rausgehen, die ganze Welt umarmen zu müssen.
Beginn ausnahmsweise 20 Uhr wegen Überlänge!!!
The film starts with the arrival of Kazuya in Kaname, a rather backwards and rural village in Japan. Kazuya was forced to join the local newspaper, which functions as a refuge for journalists who fucked up their career in Tokyo. Bored out of his wits, Kazuya starts wandering around town in the hope that there is something interesting to report about. It doesn't take him long to realize that this village has its own share of secrets, but uncovering them is a lot harder than he expected.
Director Daisuke Tengan, son of acclaimed Japanese writer and filmmaker Shohei Imamura, weaves an epic fairy tale for adults with lots of bizarre characters. And - unusual for our film series THROW AWAY YOUR BOOKS - even with a happy ending.
Movie starts this time at 8 pm, because of its overlength of 160 min!!!