Throw away your books and rally in the streets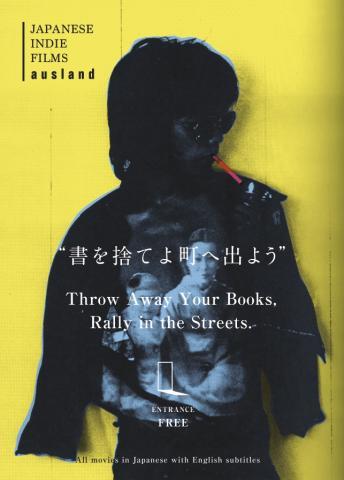 SHO O SUTEYO MACHI E DEYOU (WERFT DIE BÜCHER WEG UND GEHT AUF DIE STRASSE/1971) ist ein Experimentalfilm des Kunst Multitalents Shuji Terayama und der Titel einer neuen monatlichen Filmreihe im ausland.
Immer am letzten Dienstag eines Monats werden japanische Filme gezeigt, die von der westlichen Welt vergessen oder übersehen wurden. Der Fokus der Reihe ist sperriges, provokatives, künstlerisches Kino mit sich abwechselnden klassischen und aktuelleren Einträgen.
Neben den Filmen der Japanese New Wave sehen wir, die Macher dieser Reihe, den Beginn des Neuen Japanischen Kinos hauptsächlich mit der Gründung der ART THEATRE GUILD.
Die ATG war ein 1961 gegründeter, unabhängiger japanischer Filmverleih, der sich zunächst auf den Import ausländischer Arthousefilme spezialisierte. Ab 1967 bis in die Mitte der 80er Jahre wurden von ihr auch eigene Filme produziert. Für viele etablierte japanische Studio-Regisseure bot die atg die Möglichkeit, sperrige oder persönlichere Filme, die die großen Studios nie produziert hätten, zu verwirklichen. Zusammen mit dem Pinku-Eiga-Genre ist die atg somit der Kreativ-Pool, ohne den das heutige Kino in Japan völlig anders aussehen würde.
Obgleich die gezeigten Filme durchaus zum Nachdenken anregen, wird es zwar kurze Einführungen der Veranstalter, aber keine expliziten Q&A nach den Vorführungen geben.
Die Bar ist allerdings noch eine Stunde nach Ende der Vorführung geöffnet - für zwanglosen Austausch unter den Gästen.
Die Filme werden mit Beamer vorgeführt, der Eintritt ist frei
映画 "書を捨てよ町へ出よう" (1971)は寺山修司監督の才能豊かな実験映画であり、auslandで2月から始まる映画上映シリーズのタイトルをこの映画からとりました。
このシリーズでは毎月最終火曜日に日本のインディーズ映画を上映していますが、ヨーロッパの人々が見落としていたり、忘れてしまっている、そういったものを今回のシリーズにピックアップすることに決めました。この映画シリーズの焦点は、反抗的、誘発的、芸術的で、クラシカル(60年代後半~)なものから最近の映画までを交互に上映することです。
上映後のQ&Aはありませんが、バーは映画上映後1時間ほどオープンしています。
上映:ビーマー、エントランスフリー、喫煙自由