Naomi Boima
Submitted by
Luzi
on Sun, 2023-10-15 16:48.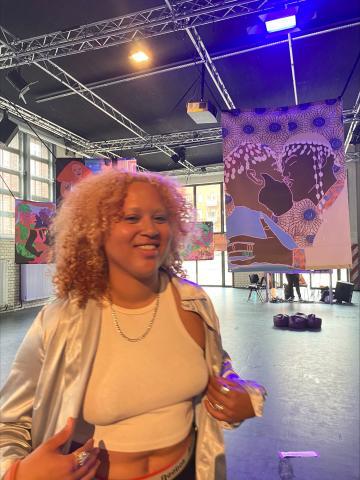 Naomi Boima (she/they) is a multidisciplinary artist based in Berlin. Their work is dedicated to deconstructing power structures through a Black feminist perspective, with a strong focus on empowering their own community. Utilizing a variety of media, including illustration, painting, and performance, Boima's art celebrates Queer relationships and bodies while promoting empathy, identification, and self-love. Simultaneously, their work serves as a commentary on the oppressive power dynamics that impact them. Boima's mission is to represent bodies that resemble their own, as well as those of their friends, lovers, and the broader community.
Alongside their fine art education at the Universität der Künste Berlin, Naomi was a co-founder of the Black Art Action Berlin collective. In 2021, they curated the exhibition "Hairtelling." Additionally, they were part of the organizing team for the antiracist library, Audream, where Naomi conducted numerous community-based workshops from 2019 to 2021.
Their performance piece, "books we read," was shortlisted for the Amadeu Antonio Prize. During their fine art studies at Chelsea College in London, they exhibited their works in Soho at "Unity in Diversity" and were a member of the collective 360 from 2021 to 2022. Upon returning to Berlin, Naomi contributed illustrations for EOTO, JmD, "Nasty Tales Vol. 3." and Postcards and prints at She Said. They also performed in Sarah Amaduas' "to build to bury to remember" at Hau am Hebbel and various other venues.
Naomi's most recent exhibitions took place at the Coraci Festival in Lüneburg, at Uferstudios as part of Eoto's "Community Bash" and at the Zentrum für Kunst und Urbanistik from 2022 to 2023.

https://instagram.com/softunderbelli?igshid=NTc4MTIwNjQ2YQ==