sololala (part II)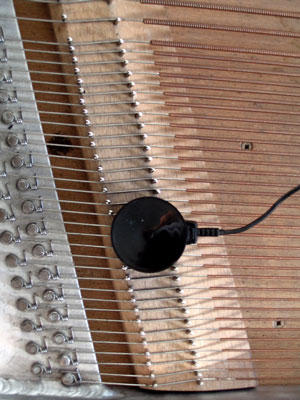 sololala (part II):
photo by tisha mukarji
Chico Mello - guitar and voice: "voz e violão e serenata"
Kevin Ellington Mingus - double bass
Andrea Neumann - inside piano, mixing desk
& Hanno Leichtmann plays Records


The second part of the sololala-festival will feature music played by/with stringed instruments:
The opener of the night, Chico Mello, will additionally use the strings of the human body, the vocal chords, to sing us some of his disarming songs rooted in brasilian popular music and european avantgarde music.
Kevin Ellington Mingus, grandson of the unforgettable Charles Mingus, has been living and working in Berlin since a while. He performs mostly in the jazz-related music scene, for example with pianist/violinist Vijay Iyer or sound-poet Amiri Baraka.
Andrea Neumann is one of the most active women in the experimental music scene of Berlin. She has been developing her music on/with the inside piano over the last ten years and is more and more influenced by performance art.

sololala was a festival organized by Gregor Hotz, Jeremy Clarke, Ulrike Ertl and Stefan Pente in the mid 90ies in Hochzeitsraum, Strelitzer Strasse 60.
sololala presented 3 solo-performances each day during one week, and its special atmosphere was created by a very charming mix of "classical" free improvisers, musicians of other styles, performers and non-professional artists on a mission. The room itself was given to a group of people in the wake of a tempted squatting of a house in Veteranenstrasse, opposite of the cultural center "Acud".
sololala took place three times, and I'd like to play another round in ausland, where I have been organizing concerts during the last years.
chico mello
Chico Mello
in Curitiba, Brasilien geboren. Medizin- und Musikstudien in Curitiba.
Kompositionsstudium in São Paulo bei H.J. Koellreuter und in Berlin bei Dieter Schnebel und Witold Szalonek. Wichtige Begegnungen mit lateinamerikanischen und europäischen Komponisten in den "Cursos latinoamericanos de música contemporanea". Arbeit im Bereich der experimentellen-, improvisierten- und Popularmusik, sowie Musiktheater.
Aufführungen, u.a., bei den Donaueschinger Musiktagen,
Pro Musica Nova - Bremen, Musica Viva, München, Maerzmusik- Berlin, Festival International de Musique Eletroacustique de Bourges- Frankreich, Festival Música Nova - São Paulo.
Konzertreisen: Spanien, Italien, Schweiz, Hongkong, Uruguay, Argentinien, USA, Russland, Polen.
Mitkurator u.a des "Escuta" Festival, Rio de Janeiro, der "Oficina de Música de Curitiba", und MärzMusik, Berlin (2005).
Andrea Neumann

Inside piano, composition
Born 1968 in Freiburg, grew up in Hamburg. Piano lessons since 1974.
Studied piano at ?Hochschule der Künste? in Berlin. Since 1996 primarily
active as improviser and composer in the areas of experimental and new
music.
In the process of exploring the piano for new sound possibilities, she has reduced the instrument to strings, resonance board and metal frame. With help of electronics to manipulate and amplify the sounds she has developed numerous new playing techniques, sounds, and ways of
preparing the dismantled instrument. Because of the weight of an original inside piano a piano builder (Bernd Bittmann, Berlin) constructed a new and lighter one.
She has worked intensively in the cross over area between composition and improvisation and in the field between electronic and handmade sounds with Berlin musicians such as Annette Krebs, Ignaz Schick, Axel Dörner, Robin Hayward, Burkhard Beins and Sabine Ercklentz. She has composed for inside piano for interdisciplinary projects such as film,
dance and performance. Concerts and performances in Germany, Europe, USA, Russia and Japan.
Discography:
?rotophormen? Duo with Annette Krebs (Charhizma)
?Barcelona series? Trio with Axel Dörner and Sven Ake Johansson (Hat Hut Records)
?petit pale? Duo with Ignaz Schick (Zarek)
?ATON? Duo with Toshimaru Nakamura (rossbinn prod.)
?Innenklavier Solo? Solo, 20 min (A bruit secret)
?Phosphor? Berlin Octet (Potlach)
?Lidingö? Duo with Burkhard Beins (erstwhile records, NY)
?When there is fire take the stairs? Trio with Sachiko M and Kaffe Mathews (Improvised Music from Japan)
?berlin strings? Solo on one of four 3inch CD?s (absinthRecords, Berlin)
?oberflächenspannung? Duo with Sabine Ercklentz (Charhizma)