Uli Jenneßen
Submitted by
caribu
on Mon, 2010-08-23 16:29.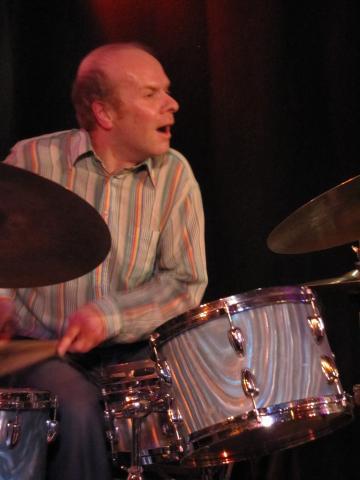 Uli Jenneßen is regarded as one of the most inspired drummers and composers in the German jazz scene. Living in Berlin, he is working with some steady bands as well as a freelance drummer.
Born in 1964 in Mönchengladbach (Germany), Jenneßen's early influences included English rockbands that toured through the region. He was especially inspired by the music of Bill Bruford, Allan Holdsworth and Tony Williams. At the age of 18 first lessons with Ralf Baumann, who at that time played with guitar player David Fiuszinsky in Mönchengladbach. First training as a combo drum­mer in Viersen with Ali Haurand and later in the music school of Düsseldorf with Rolf Drese and Hermann Gehlen, together with the drummer Christian Thome.
In his 20's, circumstances forced Jenneßen to stop playing music, and instead he began to study philosophy, anglistics and German literature at the universities of Düsseldorf, Würzburg and Berlin. Settling in Berlin he started working as a freelance drummer. Lessons with Ralph von Duncan, Keith Copeland and Jerry Granelli and regular gigs with many of the musicians in town followed. From 1989 on, the end of the Berlin wall, new musicians came to Berlin,and Jenneßen became co-founder of the band LAX, with altosax player Henrik Walsdorff, bassplayer Gerold Genßler and later with multiinstrumentalist John Schröder. LAX at that time played regularly in the Acud Club, influencing the modern jazz in Berlin with its unique and new sound.
In 1995, the first record (a double LP) of DIE ENTTÄUSCHUNG (another of Jenneßen's bands) appeared. On this record, Jenneßen together with bass clarinetist Rudi Mahall, trumpet player Axel Dörner and bassplayer Joachim Dette for the first time interpreted the music of Thelonious Monk. In the Berlin jazz scene, they quickly gained cult status, and gathered quite a following.
In 1999 the band FREEDOM OF SPEECH, consisting to a large part of members of LAX, recorded well a regarded record for Free Music Production.
Since 2000, Jenneßen is teaching drums and music in the music school of Berlin­-Mitte. In 2001, Jenneßen was invited to record a tribute to Albert Ayler with guitar player Eugene Chadbourne and bassplayer Joe Williamson. "Ayler Undead" was released on Grob­-Records and was also performed live in the Kölner Stadtgarten to mach acclaim. From 2003 on DIE ENTTÄUSCHUNG started to work with pianist Alexander von Schlippenbach, creating the project MONK'S CASINO, which toured extensively all over the world. MONK'S CASINO is the only band on the planet able to play all 71 compositions of Thelonious Monk in a unique and hip way, even on one night.
Since 2006, Jenneßen is a member of Ali Beierbach's group TIGERS OF LOVE. Currently Jenneßen is getting more involved in com­posing.
In 2010 he presenting his own band OLJONEK, with Olaf Rupp (git), and Rudi Mahall (bcl).