a dance is a dance is a dance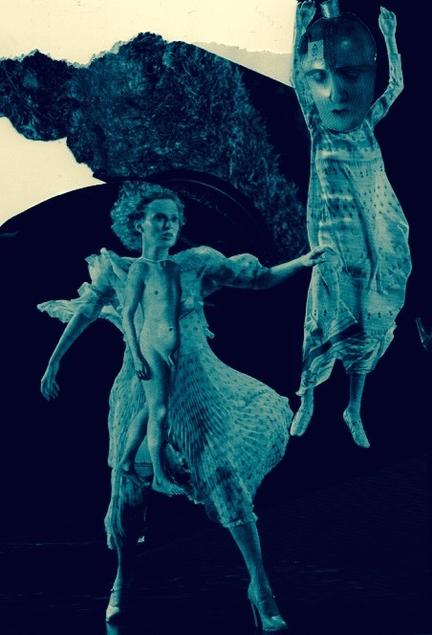 Year 0000 at ausland
a group of humanoids are gathering in the bunker
they came to witness an ARRIVAL
be prepared
be ready
26th of march
ausland Berlin
19h
work-in-progress showing (approx. 30 minutes)
followed by an informal feedback conversation
-----
Agata Siniarska makes works within formats of performances, events, practices, lectures, videos, others. Having given a chance to different kinds of theatrical forms, having studied choreography, currently she devises feminist fun studies and cultivates her yearnings for language and writing, cinema and animation in the scope of her practices. She is a founding member of female trouble - a friendship based collective revolving around identity, body, feminisms, pleasure, affirmation and love. Addicted to fiction, she conducts her investigations, fashioning herself as a tool of rhetoric, through the cultural structures inscribed to her. Every action she makes, fueled by the energy of profound theoretical hesitancy, she approaches with passion and intense fascination, acting many times not alone but in the company of many exquisite adventures.
Xenia Taniko Dwertmann is an artist living and working in Berlin. She works as choreographer, performer, writer and creates in formats that range from performance and practices to collage, text, lectures and hosted situations. In her artistic work she draws from cultures of collaboration and approaches choreography as an experimental practice of relation. Most recently, her work investigates the performer-as-host, installing fragile situations of encounter with an audience, as well as engaging physical activities of care, maintenance and other forms of unproductive physical labor on stage. Xenia is a member of the friendship-based collective female trouble and co-founder of their infamous event series VULVA CLUB, an artistic platform amplifying feminist/queer perspectives in temporary communities. Xenia Taniko Dwertmann has studied philosophy and politics in Leipzig and Paris, and is a 2016 graduate of the program 'Dance, Context, Choreography' at HZT Berlin. She has worked with and for international artists such as Ania Nowak, Roni Katz, Agata Siniarska, Julia Gladstone, Hana Lee Erdman, Julian Weber, among others.
As x.taniko she makes collage, increasingly on request, as an alternative and abstracted approach towards PR imagery for artistic events.