Nur & Vanessa Gageos: More and less wired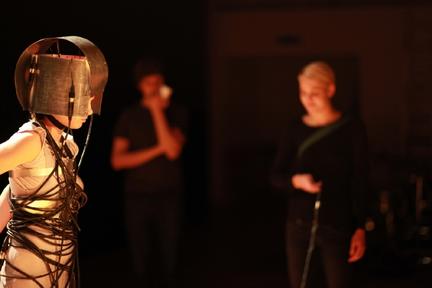 More and less wired – Physical connections in electronic music
Nur (Cairo - Egypt) / Vanessa Gageos (Berlin - DE)
An investigation into the different ways people are connected to music.
Doors 20:00 | Start 20:30 | Donation 6 ≤ 9€
This Outbound event considers that when an audience gathers to listen to a performance, everybody in the room is physically touched by sounds at the same time. It's an invisible link that everybody shares. At the same time, electronic music generated by and through computers has redefined the physical relationship and possibilities between the artist, their instrument, and their public. Nur presents, precisely crafted sounds pre-produced in her studio while Vanessa Gageos uses the audience's physical presence to create and manipulate sound.
Nur lives and works in Cairo, Egypt. Her sound displays the influence of "Musique Concrète" and Electroacoustic music, as well as her deep interest in Islamic religious music and ethno-musicological research and compositions. She is particularly fascinated in integrating the human element within the electronic music context, which is why she frequently uses vocals, body sounds and field recordings in her work.
Vanessa Gageos lives and works in Berlin and Bern. By using self-explanatory representations of fundamental human ideas, Vanessa Gageos combines natural with technological elements and phenomenons in her projects. In her performance "-logy", she creates noise by physically wiring the audience to the device she wears.