Ohlmeier / Khroustaliov / Fischerlehner + Miki Yui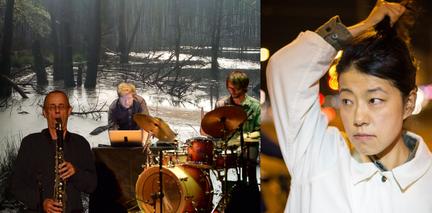 OHLMEIER / KHROUSTALIOV / FISCHERLEHNER // MIKI YUI

OHLMEIER / KHROUSTALIOV / FISCHERLEHNER
Lothar Ohlmeier – Bassklarinette
Isambard Khroustaliov – Modulare Synthesizer & Computer
Rudi Fischerlehner – Schlagzeug
+++ English below +++
Lothar Ostermeier, Rudi Fischerlehner und Isambard Khroustaliov haben sich für ihre Veröffentlichung Hypertide over Kiribati von einem tief liegenden Atoll im Pazifik inspirieren lassen, das durch den Anstieg des Meeresspiegels bedroht und bald vom schmelzenden Polareis überflutet wird und ziehen Analogien zur virtuellen Flut von Urlaubsselfies in den sozialen Medien.
Das Trio begibt sich auf eine persönliche Suche, um die primitive Unschuld der musikalischen Entdeckung wiederzubeleben. Sie beschwören eine Zeit herauf, in der Free Jazz neue Möglichkeiten der Improvisation erforschte und die aufkommende Technologien in der Musik einen wilden Optimismus versprachen. Hypertide over Kiribati ist ein Affront gegen den dumpfen Aufprall des Nichts, der dieses Erbe zu verharmlosen, zu spalten und zum Schweigen zu bringen droht, und versucht, alternative Realitäten für die Symbiose von Mensch und Maschine im Musikschaffen zu suchen und zu erforschen, in der Hoffnung, dass sie andere dazu inspiriert, nach neuen Horizonten zu suchen und diese Suche fortzusetzen.
Ohlmeier, Khroustaliov und Fischerlehner arbeiten in unterschiedlichen Projekten seit etwa zehn Jahren zusammen. Hypertide Over Kiribati ist das erste gemeinsame Projekt als Trio und auf Not Applicable erschienen.
http://www.rudifischerlehner.net/hypertide.html
MIKI YUI
Miki Yui – Elektronik, Field Recordings, Synthesizer
Mit ihrem Hintergrund in Fine Arts erforscht Miki Yui die Grauzonen unserer Wahrnehmung und Fantasie in den Bereichen Musik, Zeichnung, Installation und Performance.
Seit 1999 mit ihrem ersten Album small sounds ist sie für ihren einzigartigen minimalistischen und organischen Ansatz in der Musik bekannt. Vom zarten Rauschen bis zum fernen Summen verwebt sie elektronische Klänge und Field Recordings zu einer Musik mit erzählerischer Spannung. Ihr 7. Soloalbum APERIO wurde 2020 bei Hallow Ground veröffentlicht. Im Jahr 2021 erschien ein Duo-Album mit Asmus Tietchens beim Düsseldorfer Label TAL.
"Miki Yuis Kreationen ahmen die Strukturen der Natur nach, und sie gehen weit über den Versuch hinaus, sie sind erfolgreich, wo andere scheitern. Ihre Musik ist kein Fluss, sie fließt vielmehr in alle erdenklichen Richtungen, und es scheint, dass die Klänge und ihr Zusammenspiel eine Art natürliche Evolution beschreiben. Es ist, als würde man ein im Zeitraffer gewebtes Netz, einen Pilz oder einen Schmetterling beobachten. Anstelle der Kamera oder des Mikroskops ist es das Mikrophon, das die Vorgänge aus nächster Nähe einfängt. So erleben wir die Energie und das Leben selbst, ungezügelt und unerbittlich." (Detlef Weinrich, Tolouse Lowtrax)
Gefördert von der Senatsverwaltung für Kultur und Europa
Medienpartner: Digital in Berlin
Einlass: 20:30 Uhr
Konzertbeginn: 21:00 Uhr
Tickets (nur Abendkasse): 9 €
+++ English +++
OHLMEIER / KHROUSTALIOV / FISCHERLEHNER
Lothar Ohlmeier – bass clarinet
Isambard Khroustaliov –modular synthesizer & computer
Rudi Fischerlehner – drums
For their album Hypertide over Kiribati, Lothar Ohlmeier, Rudi Fischerlehner and Isambard Khroustaliov have been inspired by a low-lying atoll in the Pacific Ocean, which is threatened by rising sea levels and will soon be flooded by melting polar ice, and draw analogies to the virtual tide of holiday selfies in social media.
The trio embarks on a personal quest to revive the primitive innocence of musical discovery. They evoke a time when free jazz was exploring new possibilities for improvisation and the emerging technologies in music promised wild optimism. Hypertide over Kiribati is an affront to the dull thud of nothingness that threatens to trivialize, divide and silence that legacy, and attempts to seek and explore alternative realities for man-machine- symbiosis in music making, with the hope that it will inspire others to search and continue to search for new horizons.
Ohlmeier, Khroustaliov and Fischerlehner have been working together in different projects for about ten years. Hypertide Over Kiribati is the first joint project as a trio and was released on Not Applicable.
http://www.rudifischerlehner.net/hypertide.html
MIKI YUI
Miki Yui – electronics, field recordings, synthesizer
Artist / composer / musician from Tokyo, based in Duesseldorf, Germany. With her background in fine art, Miki Yui explores the grey zones of our perception and imagination, in the fields of music, drawing, installation and performance.
Since 1999 she is known for her unique minimalistic and organic approach towards music. From a delicate tiny hiss to a distant hum, electronic sounds and field recordings are woven into music with a narrative tension. Her 7th solo album APERIO was released 2020 from Hallow Ground. In 2021 a duo album with Asmus Tietchens was released from Duesseldorfer Label TAL.
"Miki Yui's creations emulate nature's own structures, and they go well beyond trying, they succeed where others fail. Her music is not a river, in fact it overflows in all directions imaginable, and it seems like the sounds and their interaction describe a kind of natural evolution. It´s like watching a web woven in time-lapse, or mashroom or butterfly. Instead of the camera or the microscope it´s the microphon capturing the proceedings from close-up. Thus we experience the energy and life itself, unbridled and unrelenting." (Detlef Weinrich, Tolouse Lowtrax)
Supported by Senatsverwaltung für Kultur und Europa
Presented by Digital in Berlin
doors: 8.30 pm
concert starts: 9.00 pm
Tickets (box office only): 9 €