Pär Thörn & Anaïs Tuerlinckx /// Marta Zapparoli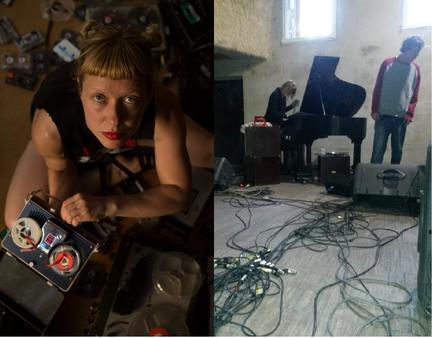 animals acting human #4:
sliding duo set:
Anaïs Tuerlinckx (prepared piano, moog synth)
& Pär Thörn (computer, tape recorders, radio)
soundcloud.com/mrs-ana-s
soundcloud.com/parthorn
vimeo.com/73414166 (Tuerlinckx solo at Salon Bruit)
solo:
Marta Zapparoli
(analog devices, tapes, field recordings)
martazapparoli.blogspot.de
soundcloud.com/martazapparoli
vimeo.com/94710789 (live at occulto fest 2014)

Doors 20:00, Start 21:00 | @ facebook
In their duo set tonight, Pär Thorn and Anaïs Tuerlinckx are alternating and overlapping soloistic segments and dialogic interplay (the image above shows them during a recent rehearsal at ausland.) Making music together as a duo since a couple of years, they're travelling in dark moods of broken songs and drones playing between cold waves and dramatic noise.
Marta Zapparoli is an Italian experimental sound artist, improviser and performer based in Berlin from 2007. Her main ongoing research and project is an investigation focused on Inaudible Sound and the multiple effects of its spectral side which shape our sense and perception of the reality.
Working with real world-sound recordings, Marta Zapparoli tries to find sounds by breaking and interrupting the usual/predictable moving trajectories within and between spaces, as well as through different methods of spatial and temporal definition/reduction of the recording area.
She is interested in sound sources as varied as giant and very small objects, machines, nature and its cataclysms, the urban environment, unexplored spaces, nullified and abandoned places, unpredictable movements, (defect) technologies, natural radio , wideband or wireless communication, but also some more unconventional environments like fluids, longitudinal and surface waves, ground vibrations and dynamics, conductive surfaces, rocks.
During her performances, Zapparoli utilizes analogue tape recorders and reel to reel tape machine due to the significance of the physicality, risk and potential imprecision involved, the different impact and freedom of handling which these machines can offer; the background noise, the rough sound; its chemical-physical characteristic; her particular love and the trait of the magnetic tape to change quality after long time use.
Apart from her solo work, Marta also has several ongoing collaborative projects - among others: PRPXD (with the researcher and sound artist Martin Kuentz); Raven Moore (with the visual artist Kathrin Guenter); ZAPPAROIS (with the musician, sound and visual artist Billy Roisz) and is a member of the 24-piece Splitter Orchester in Berlin.
***
animals acting human is a not-at-all ongoing, but instead just occasionally manifesting tiny series at ausland established in honour of French caricaturist Jean Ignace Isidore Gérard Grandville. It focusses on the more raw, damaged and volatile breeds of contemporary experimental music, with a high tolerance for exceptions. Each time could be the last time; in that sense, it subtly also refers to Friedrich Nietzsche's concept of the Last Man.
animals acting human approaches Human-Animal Studies from a practical side: What happens when a bunch of highly talented, headstrong homo sapiens sapiens play music for you?