Paris/Berlin: 20 years of underground techno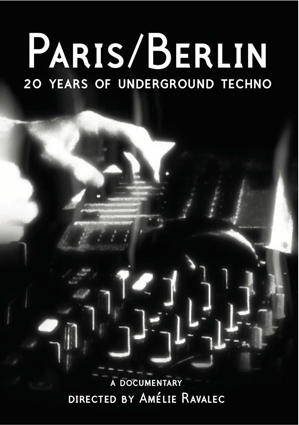 This event is part of the reSource 003: P2P Vorspiel presented by transmediale and CTM Festival
Screening of the music documentary "Paris/Berlin: 20 years of underground techno" Directed by Amélie Ravalec. Followed by a performance by Insultor.
"This is what techno was about, this is what it should be about, and hopefully this is gonna stay this way for a while now.." Adam X (Sonic Groove)
This 52" documentary tells the story of an underground movement, from its beginning until now. Born in Detroit in the late 80s, techno met its audience a few years later in Europe, as the UK, Germany, France and many others countries started to host
the foundations of a techno scene.
It is mostly focused on Paris and Berlin. Two different cities, two different tales, but techno grew up in both, from secret underground parties to huge clubs, from a small faceless movement to an etablished business, and from vinyl to digital.
The documentary features those in the scene who kept it true to its original spirit. About twenty people trace the evolution of techno over the years. They all have different profiles - dj, producer, label manager, promoter, record shop owner.. but all share a common passion : techno.
Insultor (audio cassettes & dictaphones, turntables, Berlin)
Insultor mainly uses old audio cassettes found at flea markets, gleaned from household refuse, or on the street. He also uses more recent recordings that are obtained from the artist or distributed in the Berlin record and bookstore Staalplaat that he manages. The recordings, whose quality has often deteriorated with time and use, are sometimes played untreated, sometimes mixed with personal recordings and/or guttural, sepulchral voices. The functions of the dictaphone, an obsolete cassette playback device, allow the sounds to be altered and transformed, sometimes plunging the sonic landscape into a fairground of festive and playful accents... or into obscene and oppressive darkness.
Insultor is also the man behind the Petit Mignon projects, a travelling gallery and independent record label with a strong DIY spirit: http://www.staalplaat.com/lpm