Paroxysm / Das B.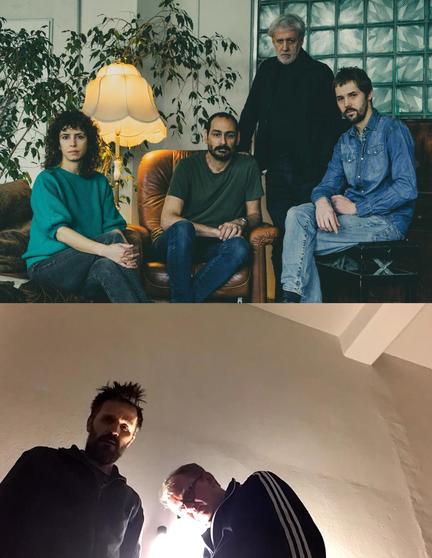 Doors 20.30 Uhr | Concerts 21 Uhr | Tickets (AK | Box Office) € 10,--
Paroxysm
Roy Carroll – electroacoustic media
Werner Dafeldecker – double bass
dafeldecker.net/projects/paroxysm
Das B.
Mazen Kerbaj – trumpet
Magda Mayas – piano
Mike Majkowski – double bass
Tony Buck – drums
mazenkerbaj.com/das-b
+++ scroll down for english +++
Werner Dafeldecker und Roy Carroll sind Paroxysm.
Ihre präzise artikulierte, auf die Klangfarbe fokussierte Musik durchmisst die Gestaltbarkeit von Material und Form, Tonhöheninteraktionen, Klangcharakter und psychoakustischer Phänomene durch ständig wechselnde Schichten, Perspektiven auf Singularitäten und Wiederholungen. Paroxysm zerlegen die zeitliche Struktur des Augenblicks und legen die molekulare Dichte darin frei.
Paroxysm strahlen eine gewisse Brutalität gegenüber ihrem Material aus; viszerale, emotionale Gesten inmitten des Urwalds aus schrägen und parallelen Verbindungen/Interaktionen, die Arbeiten der beiden ausmachen.
Das B. vereint vier der wohl einzigartigsten Stimmen der europäischen, zeitgenössischen Improv-/Experimentalmusikszene. Das Quartet besticht durch seine abstrakten Erzählungen von kohäsiven Klangwelten, die gleichermaßen aus Vertrautem als auch dem Unbekannten schöpfen. Mal im Gleichklang, mal parallel, aber immer als Einheit.
Das B. spielt freie Improvisation eher texturalen Stils in klassischer Jazz-Besetzung.
Das Konzert ist Teil des Monats der zeitgenössischen Musik Berlin.
Gefördert von der Berliner Senatsverwaltung für Kultur und Gesellschaftlichen Zusammenhalt.
Medienpartner Digital in Berlin.
+++ english +++
Paroxysm are Werner Dafeldecker and Roy Carroll.
Their precisely articulated timbre-focused music traverses malleability of material and form,
pitch interactions, timbral nature and psychoacoustic phenomena, through continually shifting layers and perspectives on singularities and recurrences.
Paroxysm pull apart the temporal structure of a moment, revealing the glistening molecular density within.
They exude a certain brutality towards their materials; visceral, emotional gestures amidst the forest of oblique and parallel connections/interactions that form their work.
Combining four of the most unique voices from europe's contemporary improvised/experimental music scene, Das B. create abstract narratives via cohesive sound-worlds, drawing from the familiar and the unfamiliar alike. At times in unison, at times in parallel, yet always as a whole.
Das B. is a classic jazz line-up, brought together to play free improv, in a rather textural style.
The concert takes place as part of the Month of Contemporary Music Berlin (Monat der zeitgenössischen Musik).
Supported by Berlin Senate Departement for Culture and Community.
Presented by Digital in Berlin.