Mike Majkowski
Submitted by
Mathias
on Sat, 2012-04-07 19:05.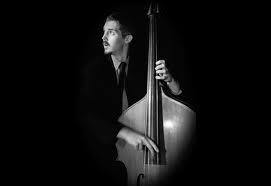 Mike Majkowski - double bass
born 1983, is a double bassist from Sydney, Australia. He began his musical activities as a jazz bassist and has performed with the likes of Mike Nock, Bob Mintzer, Kristin Berardi, Vince Jones, Dale Barlow, to name a few. Since then, he has developed an active interest in music of an exploratory and experimental nature. Mike is a long time devotee of the improvised music community in Sydney, where he frequently collaborates with improvisers Jim Denley, Jon Rose, Chris Abrahams, Robbie Avenaim, among others. He is a founding member of the Splinter Orchestra (large-scale electro-acoustic improvisational ensemble, which began in 2002). Other current projects include piano/bass/drums trio ROIL (with Chris Abrahams & James Waples – who just completed their first national tour funded by Sound Travellers), and his own work as a soloist – exploring how the use of refined extended techniques develops the sound and style of the work. His debut solo album 'Ink On Paper' was release by Portugese label Creative Sources in late 2009.