Paul Lovens
Submitted by
caribu
on Tue, 2008-11-25 21:51.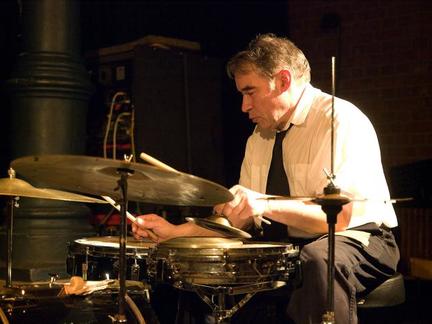 biographical notes taken from:
European Free Improvisation Pages
http://www.efi.group.shef.ac.uk/
Born in Aachen, Germany, 6 June 1949; Drums, percussion, musical saw, etc.
Paul Lovens played the drums as a child. Self-taught, from the age of 14 he played in groups of various jazz styles and popular musics and from 1969 has worked almost exclusively as an improvisor on individually selected instruments. He has worked internationally with most of the leading musicians in free jazz and free improvisation, among whom have included the Globe Unity Orchestra, the Berlin Contemporary Jazz Orchestra, the Schlippenbach trio, Quintet Moderne, Company, and a duo with Paul Lytton. He has undertaken concert tours in more than 40 countries, is a founder member of a musician's cooperative and has produced recordings for his own label, Po Torch Records since 1976. He has worked with painter Herbert Bardenheuer. Despite very rare solo performances, and although giving occasional concerts with ad-hoc groups and an involvement in projects with film, dance and actors, Paul Lovens' main interest and work is musical improvisation in fixed small groups. In the mid-1990s these small groups numbered around 16, of which a few were part of a special selection, called 'vermögen'.
Paul Lovens somehow epitomises the free drummer/percussionist who is not there to lay down the beat and kick everyone else into action but to listen, colour, contribute, guide, and occasionally direct, the overall cooperative sound. In concert one cannot fail to be moved by his intensity and concentration and there is an overiding feeling that even the most random events are somehow planned in time. In this respect, there is a nice irony that on the Nothing to read CD with Mats Gustafsson, Lovens describes his kit as consisting of 'selected and unselected drums and cymbals'. Miking seems to be a problem at times with some recordings giving him undue prominence and others insufficient. Good recordings are Elf bagatellen, Nothing to read, Pakistani pomade, and ,stranger than love.