Paul Stapleton
Submitted by
Mathias
on Tue, 2011-07-12 21:55.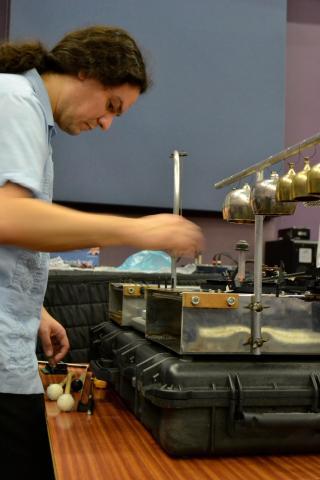 Paul Stapleton is a sound artist, improviser and writer originally from Southern California, currently based in Belfast. Paul designs and performs with a variety of custom made metallic sound sculptures, electronics and found objects in locations ranging from improv clubs in Cork to abandoned beaches on Vancouver Island. For the performance at ausland Paul plays the BoSS (Bonsai Sound Sculpture, 2010); an air portable modular sound sculpture developed in collaboration with Neil Fawcett, expanding on work done with the MiSS in 2007. Paul is currently involved in a diverse range of artistic projects, including the co-direction of the interdisciplinary performance group theybreakinpieces, and a recently renewed collaboration with vocalist and performance artist Caroline Pugh.
Since 2007, Paul has been lecturing at the Sonic Arts Research Centre (SARC), Queen's University Belfast. Prior to joining SARC, Paul worked as a research fellow at the University of Central Lancashire where he taught, researched and curated events on sonic art, mediatised performance, live art and practice as research.