Thielemans+Nakamura/Beins+Rose/Stapleton+Montero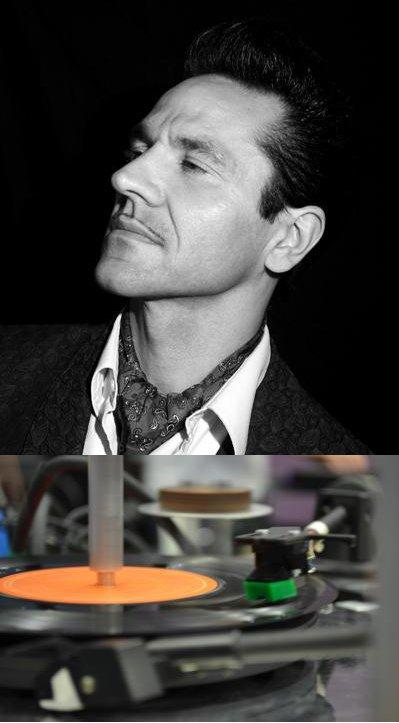 Eric Thielemans - bass drum, objects, snare drum
Toshimaru Nakamura / Burkhard Beins
Toshimaru Nakamura - no-input mixing board
Burkhard Beins - analogue electronics
Simon Rose / Paul Stapleton
Paul Stapleton - bonsai sound sculpture
Simon Rose - bariton saxofone
Jason Montero - live electronics
Eric Thielemans - bass drum, objects, snare drum
A genre crossing/blending percussionist/drummer working from a classically trained ear via jazz drumming, free improv and all sorts of contemporary musics towards his own realms in music and performance. His current bands are lidlboj (Jozef Dumoulin's eclectic post jazz playgarden), Jozef Dumoulin trio, Tape Cuts Tape (a trio with Rudy Trouvé known as founding member of dEUS and Lynn Cassiers aka singer of lidlboj) and an own multidisciplinary arts ensemble EARR (Ensemble Artists Repertoire Research) with Claron Mc Fadden, Jean-Yves Evrard, Peter Jacquemyn, Jozef Dumoulin, Hilary Jeffery and Jorgen Cassier. Other collaborations include Jozef Van Wissem (Movement of the Free Spirit), Alexander Berne, Lucio Capece, Daysuke Takaoka, Marshall Allen, Mishiyo Yagi, Peter Jacquemyn, Josse De Pauw and Louise Landes Levi. For the past 3 years he has been focussing on the development of a body of solo works on percussion. His first acclaimed solo work "a Snare is a Bell" was released on vinyl in 2007 on the Antwerpian label Ultra Eczema. In 2009 another cd-r with solo works was released on ET's own OORWERK label. Besides this work Eric Thielemans is active as a producer and teacher/coach. Recently his latest production for Kaat Hellings "Hit of The Century" album was released. In the past ET produced both albums of Ghalia Benali's "Romeo & Laila" and Maak's Spirit's "Stroke". Eric Was the drummer of the adventurous avant Jazz band Maak's Spirit for 9 years until march 2008 and before that of the Ben Sluys Quartet for 7 years.
Toshimaru Nakamura / Burkhard Beins
Toshimaru Nakamura - no-input mixing board
Burkhard Beins - analogue electronics
Burkhard Beins, born 1964 in Lower Saxony, lives in Berlin since 1995. As a composer/performer, working in the non-academic fields of experimental music, he is known for his widely abstracted use of percussion instruments in combination with selected objects. He is a member of groups like Perlonex, Activity Center, Polwechsel, Trio Sowari, Phosphor, BBB and The Sealed Knot, and also works with Keith Rowe, Sven-Åke Johansson, Phil Minton, Orm Finnendahl, John Tilbury, Charlemagne Palestine and many others.
Toshimaru Nakamura has been producing electronic music on self-named "no-input mixing board," after long unhappy years with the electric guitar. The name describes the method of his music. "No" external sound source is connected to "inputs" of the "mixing board." Mostly an improviser, occasionally a composer for dancers, an instrumentalist for compositions.
Simon Rose / Paul Stapleton
Paul Stapleton - Bonsai Klangskulptur
Simon Rose - Bariton Saxofon
In the duo of Paul Stapleton and Simon Rose Stapelton's self designed instrument, the BoSS (Bonsai Sound Sculpture, 2010) combines with Rose's circular breathed baritone, multiphonic and harmonic textures, to explore other sound worlds through real time interaction. The method of exploration commits to a free improvisation aesthetic whereby the music is produced at the point of performance. Encountering one another's music while performing at the 'Call them Improvisers' performance at SARC (November 2010) an affinity to the possibilities of one another's particular approach became immediately apparent. This strongly identified connection led them to seek to pursue the possibilities of further exploring the musical possibilities within the parameters created by the duo setting.
Reviews: CD: 'Procession' solo alto saxophone (FMR) 2006
'There are solo saxophone records, and then, there are the solo saxophone records that transform the instrument into an orchestra; effect is superseded, or rather transmogrified, moving away from virtuosic display and becoming an essential part of the instrumental language.' Procession' is one of the finest statements from the saxophone I have ever had the pleasure to experience. Over three extended pieces, recorded in concert, Simon Rose proves himself a student of history, but not a slave to it. Each piece is encyclopedic and grandiose without pretence, as witnessed in the opening of the aptly named 'Ground Effect'.
Marc Medwin, CADENCE, September 2007
Jason Montero - live electronics
Jason Montero is an Australian composer/performer with a particular interest in the intersections and transformations of music/sound events and their physiological/psychological impact on the listener. His solo performance strategies and compositions borrow from a myriad of areas, including musique concrete, free improvisation, jazz, computer music, sound synthesis and sound mass composition.
He has degrees in both music (performance/composition) and fine art (sound) and has studied and performed with a diversity of artists, including Bertrand Turesky, Sam Rivers, Philip Samartzis, Philip Brophy and Brian Brown. As well as his own stand alone works, Jason has composed for film, theatre and gallery installation.
http://soundcloud.com/jasonmontero
http://jasonmontero.wordpress.com/
Einlass: 21:00 Uhr
Beginn: 22:00 Uhr pünktlich
Im Rahmen von ohrenstrand.net