Simon Rose
Submitted by
Mathias
on Fri, 2010-03-19 20:20.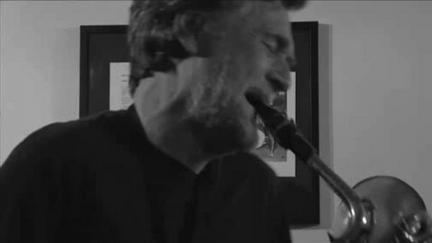 Simon Rose has performed from solo to orchestras in Europe, US and Canada. Interest as a free improviser developed exploring the possibilities created by purposefully limiting himself to the alto saxophone (solo alto 'Procession' FMR 2005). During the last two years Rose has focused on the baritone sax (solo baritone 'Schmetterling' Not Two Records, 2011). He has led the trio Badland (Simon Fell, Steve Noble) for 15 years. Other small group collaborations have included Adam Bohman, Clayton Thomas, Jan Roder, Mark Sanders, Kjell Nordeson, Christian Marien, Oluyemi Thomas, Steve Heather, Olaf Rupp, Chris Chafe, Kanoko Nishi, Ava Mendoza, Weasel Walter, Dave Tucker, Damon Smith, Pauline Oliveros, Charity Chan, Colin Stetson, Dominic Lash, Hilary Jeffery, Alan Wilkinson and Pascal Nichols amongst others. Participation in large groups has included Marco Eneidi Orchestra, London Improvisers Orchestra, Roland Ramanan Tentet. CD recordings can be found on Bruce's Fingers, Emanem, FMR, Rayon, Leo, PSI and Not Two.
Research
As well as a saxophonist Simon is a very experienced teacher and has taught music and drama in a variety of settings. Much of his teaching work has been with young people who have special educational needs. Rose is currently working towards a PhD (improvisation and education) at Glasgow Caledonian University. Academic presentations since 2007 have been at North Western University, University of Denver in the USA, Guelph (2008 and 2010) and McGill Universities and Banff Centre in Canada and the Royal Northern College of Music, UK. Forthcoming publications include a chapter on improvisation in education in 'Investigating musical performance' (Ashgate).
Paper presentations:
International Society for Improvised Music, Northwestern University, Evanston, Illinois USA December 14-16, 2007 'Articulating perspectives on free improvisation for education'
Guelph University, Ontario, Canada: 3-5 September 2008 'Articulating perspectives on free improvisation for education'
University of Denver, Colorado USA December 5-7, 2008 Panel: 'Exploring the Unkown: Accepting Uncertainty' (performance and paper)
Bursaries
Summer Institute for Critical Studies of Improvisation, University of Guelph, Ontario, Canada 25 Aug. - 7 Sept. 2008