Phillip Marks
Submitted by Anonymous on Sun, 2015-05-10 13:56.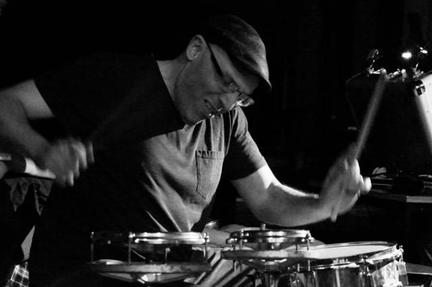 Philip Marks – Drums and Percussion
1988 - 2003 - involved in promotion, organisation and performance of innovative and adventurous musical events in Manchester- since 1997 under the banner of New Music Northwest (Manchester) including lottery funded "Manchester Festival of Improvised Music" - 1998, and concerts at Royal Northern College of Music and Green Room including "New Music Project '99" for Manchester Jazz Festival.
1991 - present – Work with free improvisation group Bark! - work around Europe and U.K. regularly since then - including performances/talks in schools in Sweden during 1994, Arts Council sponsored tours of England - 1996 and 1999/2000, British Council sponsored tour of Germany - 1995. Performances in Denmark and Sweden as part of European Echoes festival - summer 1999.
Collaborations with Kino Film of live accompaniment to classic experimental films - 1999 and 2001. Played Manchester Jazz Festival
- 2000. Performed at Freedom of the City festival in London - May 2001 for which the BBC did a live webcast. Jazz Services tours of
U.K. - 2004 and 2007.
1995 - present - Work with pianist stephen Grew in Grew Duo/Trio/Quartet - Jazz Services tours of U.K. – 1996, 2001 and 2007.
British Council sponsored tour of Germany - 1999.
2008 - present – Quartet with Tony Bevan, Dominic Lash and Paul Obermayer. Recording "A Big Hand" released in 2010.
2009 – Jazz Services tour in Alan Tomlinson Trio with Alan Tomlinson and David Tucker
2010 – Jazz Services tour with saxophonist/bassoonist Mick Beck
2012 – Jazz Services tour with David Birchall and Olie Brice
Has also played with Derek Bailey, Evan Parker, John Butcher, Phil Wachsman, Marcio Mattos, Pat Thomas, John Edwards, David Tucker among others as well as solo percussion recitals including at Lancaster New Music Festival - 1999.