RichardScottLightningEnsemble JonRose BobOstertag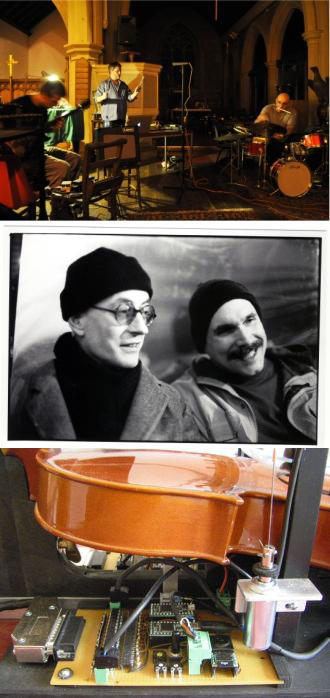 Richard Scott Lightning Ensemble
Richard Scott – modular synthesizer
David Birchall – guitar, electronics
Phillip Marks – drums, percussion
2nd set + Jon Rose – violin (guest)
Jon Rose – violin, Data Violin
Bob Ostertag – Aalto synthesizer, gamepad
If the weather is good, Bob Ostertag will perform outside in the yard of ausland! We will start in time, so that he plays from 9:00-9:30 pm. Playing outside gives the possibility to have much stereo separation, which creates an expansive sound space - ideal for Bob Ostertag's new music.
Richard Scott's Lightning Ensemble
The Lightning Ensemble, led by electronics maestro Dr. Richard Scott, focuses on a highly interactive, conversational post-free jazz form of free music that Scott calls "molecular improvisation" which is influenced disciplines originally pioneered by John Stevens and the Spontaneous Music. Scott's approach to electronics is fast and visceral and the Ensembles reflects his interest in speed, intensity and collective musical communication.
The Lightning Ensemble itself has been in existence for 5 years but the individual players in the group have a much long history of playing together, Scott and Marks have been working together for over two decades in groups such as Grew Trio and Bark!. Marks and Birchall separated in age by 30 years, nonetheless discovered their absolutely compatible natural musical affinity and over the past five years via the very creative improvising scene in the North of England. In April 2014 the quartet released their self titled debut on CD and Bandcamp.
At ausland the Lightning Ensemble will be joined by Jon Rose, "the major philosopher and cosmologist in a violin-centric world" (David Harrington from Kronos Quartet).
http://richardscott.bandcamp.com/album/richard-scotts-lightning-ensemble
http://richard-scott.net/ensembles/lightning-ensemble/
For the benefit of those who missed the premiere of this invention at The Rosenberg Museum, Jon Rose will exhibit the freakish Data Violin and play violin duos/duels with it. The Data Violin is a robot that is played by data generated live from the criminals and marketeers that run the financial deals at Wall Street. Music will be heard of that fundamental delusion at the centre of capitalism – infinite growth on a finite planet. Or to put it simply; the sound of money. The Data Violin is a joint project between Martin Riches (who invents machines that physically "talk" amongst other wonders of science, creativity, and perseverance), Sukandar Kartadinata (who is one of the most in demand creative software engineers in Berlin, a fine musician, and a problem solver par excellence) and Jon Rose, who is glad to realise a fantasy that has been sitting in one of his sketch books for over 10 years.
http://www.jonroseweb.com/ http://sukandar.de/ http://martinriches.de/
Bob Ostertag will play new music on the Aalto synthesizer controlled with a gamepad. Ostertag played a Serge modular synthesizer with Anthony Braxton, John Zorn, and many others in the 1970s and 1980s. More recently he has recorded with a Buchla 200e. This performance will be done entirely with the Aalto virtual synthesizer.
http://bobostertag.com/

Supported by INM - initiative neue musik Berlin e. V.
Doors: 8.30 pm
Concert start 9.00 pm