Phonopticon / Hartmann / Zapparoli / Tuerlinckx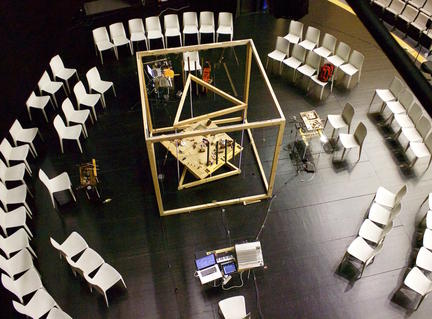 This evening is composed of a meeting between instruments, objects, artists and ausland. Coming together for the first time, 6 musicians will work to build up and take down the architecture of sounds, listening and experience.
Phonopticon
Phonopticon is a sonic model inspired on the Panopticon architecture, a building designed by Jeremy Bentham on the XVIIIth century, where a control central tower has a 360 degrees vision on the cells of the prisoners. Conceptually, however, the ideas of control and power implicit on the Panopticon are replaced by sound representations, free and abstract in its essence, that find different meanings on the listening processes developed by every listener.
Phonopticon is a concert where new expressive and performative ways are explored in the areas of composition, performance and electroacoustic spatialization, gathering in a central point a set of new acoustic and electronic musical instruments. The audience, displayed concentrically, is also surrounded by eight loudspeakers placed on the limits of the circle.
Composition and performance: Gustavo Costa, Henrique Fernandes, José Alberto Gomes and Ricardo Jacinto.
New Instrument Design: Alberto Lopes, Alexandre Soares, Carlos Guedes, Filipe Lopes, Gustavo Costa, Henrique Fernandes, José Alberto Gomes, Ricardo Jacinto, Rui Dias and Rui Penha.
Production: Sonoscopia
Hanna Hartman is a Swedish sound artist and composer living in Berlin.
Since around 1990 she has composed works for radio, sound sculptures and numerous performances all over Europe. More recently, she has started to write pieces for instrumentalists. Her many awards and grants include Prix Europa (1998), the Karl-Sczuka-Preis (2005), the Phonurgia Nova Prize (2006), and a Villa Aurora grant (2010). During 2007 and 2008 she was Composer-in-Residence for Swedish Radio.
Having developed her very own language, the Swedish sound artist and composer Hanna Hartman creates compositions that are exclusively made up from authentic sounds which she has recorded around the world. Sounds are taken out of their original context and thus perceived in their purity. Hanna Hartman seeks to reveal hidden correspondences between the most diverse auditive impressions and in new constellations she creates extraordinary worlds of sound.
Anaïs Tuerlinckx is a pianist from Brussels.
She moved to Berlin in 2008, interested in the local improvised music scene. Tending to a rather physical and expending way of playing, her performances are characterized by a decidedly harsh and noisy but at the same time elegiac, breezy and spacious sound.
She likes to get involved in public spaces proposing inside piano activism out of the concert space and also teaches improvisation within the scope of music pedagogy.
Marta Zapparoli is an Italian experimental sound artist, improviser and performer based in Berlin from 2007. Her main ongoing research and project is an investigation focused on Inaudible Sound and the multiple effects of its spectral side which shape our sense and perception of the reality.
Working with real world-sound recordings, Marta Zapparoli tries to find sounds by breaking and interrupting the usual/predictable moving trajectories within and between spaces, as well as through different methods of spatial and temporal definition/reduction of the recording area.
She is interested in sound sources as varied as giant and very small objects, machines, nature and its cataclysms, the urban environment, unexplored spaces, nullified and abandoned places, unpredictable movements, (defect) technologies, natural radio , wideband or wireless communication, but also some more unconventional environments like fluids, longitudinal and surface waves, ground vibrations and dynamics, conductive surfaces, rocks.
During her performances, Zapparoli utilizes analogue tape recorders and reel to reel tape machine due to the significance of the physicality, risk and potential imprecision involved, the different impact and freedom of handling which these machines can offer; the background noise, the rough sound; its chemical-physical characteristic; her particular love and the trait of the magnetic tape to change quality after long time use.
Apart from her solo work, Marta also has several ongoing collaborative projects - among others: PRPXD (with the researcher and sound artist Martin Kuentz); Raven Moore(with the visual artist Kathrin Guenter); ZAPPAROIS (with the musician, sound and visual artist Billy Roisz) and is a member of the 24-piece Splitter Orchester in Berlin.