PRESENCE/s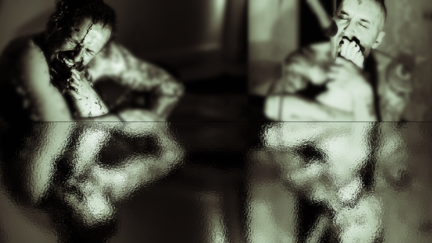 PARADOX & PARALLELS (vierten Abend: dasein)
Thomas John Bacon and Joke Lanz
PRESENCE/s
Of breath

Of mind

Of spit

Of sight

Of sound

Of healing

Of lucidity

Of hands

Of time

Considering our place in the perceived presence from a series of momentary actions.
------
Biographien:
Sudden Infant ist das langjährige Projekt von Joke Lanz.
Entstanden 1989 aus dem Antrieb heraus, Klangkunst und Performance miteinander zu verbinden. In die Auftritte einfliessend immer wieder Fragmente aus Dada, Aktionismus, Fluxus, Noise und Punk.
Der Gebrauch von minimalem Equipment sowie die pure, reduzierte Essenz des Körpers und der daraus entstehenden Klangwelt, sind die Eckpfeiler einer Sudden Infant Performance. Das Ausloten akustischer und physischer Elemente, die Reduzierung auf das Wesentliche, ergibt eine sehr spannungsvolle Bühnenästhetik und sprengt die Grenzen zwischen Noise, Performance, Improvisation und Elektronik.
Thomas John Bacon bearbeitet die Begriffe Körper, Sein und Bewußtsein. Dadurch konzentriert er sich in seiner performativen Arbeit und Forschung auf eine Vielzahl seiner selbst. Seine Arbeit ist durch eine Mischung aus Einflüssen von Aktionskunst bis zur Live Art vielfältig definiert. Diese Einflüsse treffen sich an der Grenzen von philosophischen und phänomenologischen Untersuchungen, welche die Wahrnehmungen von Grenzen des Körpers und des Rituellen infrage stellen.
Thomas wurde in unterschiedlichen Methoden im Rahmen Theater ausgebildet und integriert eine sehr verbreitete Technikund ein konzeptuelles Verständnis in seine laufende Arbeit. Seine Praxis erforscht das Sein in einer herausfordernden Performativität und versucht einen ontologischen Austausch zwischen Publikum und Selbstwahrnehmung(-en) zu schaffen. Sein Soloprojekt bleibt damit tief mit der Performance-Kunst und Körperkunst verbunden und auch in ihr verwurzelt.
----- english -----
Turntablist Joke Lanz creates autonomous sound-cells that melt into a language free of any function. He combines ritual reductionism with anarchistic playfulness, atmospheric soundscapes with cut-up noise and physicalness with unpredictability.
Best known for his international acclaimed Noise project 'Sudden Infant', Joke Lanz is presenting his work since 25 years all over the world. Born in Switzerland and currently operating out of Berlin, he is one of the most prolific and profound artists working in the border zones where performance and body art meet Improvisation and Noise.
Joke Lanz has released his works on some of the most prominent record labels in the noise underground i.e. RRR, Schimpfluch, Tochnit Aleph, Blossoming Noise, Entr'acte, Artware, SSSM, Klanggalerie, Some Bizarre, iDeal Rec and performed with the likes of Peter Kowald, Christian Marclay, Rudolf Eb.er, Z'EV, Carlos Giffoni, Daniel Menche, Christian Weber, Charlotte Hug, Christian Wolfarth, Astro, The New Blockaders, GX Jupitter-Larsen and many more.
Thomas John Bacon is an artist whose work focuses upon the conception of the body, Being & the idea of a multiplicity of Self/s in performance. His work can be located within the framework of live art/aktion & philosophical/phenomenological investigations that look to de/construct & challenge perception, alongside the assumed liminal barriers of body-based practices. His practice looks to explore how Being in performance may be challenged through the borders of risk and in doing so, opens an ontological exchange between audience & the perception of Self/s.
Thomas comes from a background of extensive training & performance in contemporary experimental theatre practices, Butoh, and directing. He continues to work in these fields today, lecturing on a variety of undergraduate courses across the country. His solo performance practice is however firmly rooted in the principals of performance art & body art.
-----
Paradox & Parallels ist eine Performance-Reihe im ausland Herbst 2015.
Mit freundlicher Unterstützung des Bezirksamtes Pankow von Berlin Fachbereich Kunst und Kultur.