For the Record: Cumbia Crossfades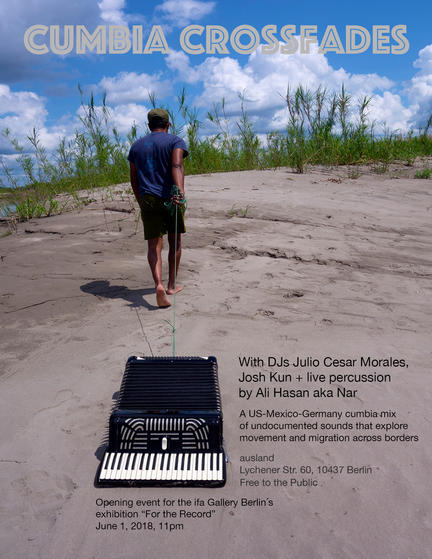 With DJs:
Julio Cesar Morales,
Josh Kun and
Ali Hasan aka Nar
Opening event for the exhibtion For the Record at ifa-Galerie Berlin
Free entry https://www.facebook.com/events/213525009253425/
A US-Mexico-Germany cumbia mix of undocumented sounds that explore movement and migration across borders.
On the occasion of the exhibition For the Record curated by Bhavisha Panchia, ifa Gallery Berlin (2.6. – 2.9.2018). For the Record features artists who utilize music as a discursive site to articulate lived experiences and to question contemporary societal conditions under persisting colonial, imperial and capitalist enterprises. With Vivian Caccuri, Jace Clayton, Geraldine Juárez, Julio César Morales with Discos Unicornio, and Christine Sun Kim. Bhavisha Panchia is a grant-holder of the programme Curators in Residence of KfW Stiftung in cooperation with ifa (Institut für Auslandsbeziehungen).