RENU
Submitted by
Luzi
on Tue, 2018-04-10 16:45.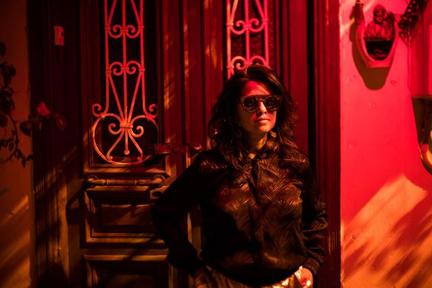 RENU is a BRLN and LNDN based artist, composer, producer, tabla-player, multi-percussionist. A multi-everything. Originally a percussionist for multiple bands & genres – Grace Jones, State of Bengal, Fun_da_mental, Kevin Davy Jazz D'semble, MIKA, Alabama 3, Tunde Jegede – she started to produce her own music in the year of 2010. Fast forward some years, learning from percussion Masters in India, Brazil and Cuba, composing for theatre, film & dance, working for contemporary dance schools, hosting her own nights in London, 1 EP and 3 albums later, she has now landed in an electronic realm. They Dance in the Dark was released 30th of SEP 2017 and is available on BANDCAMP.
THEY DANCE IN THE DARK a plasmic electrical journey which andulate's and ebbs its way through a cosmos of mixed media. Artist RENU performs her latest electronic album THEY DANCE IN THE DARK in a manner of an electronic dance odyssey with live percussion (tabla, cajon, latin percussion, soundscaping percussion) and live electronics. Read more on the sound, the show and the visuals.