Songs We Taught Your Mother #2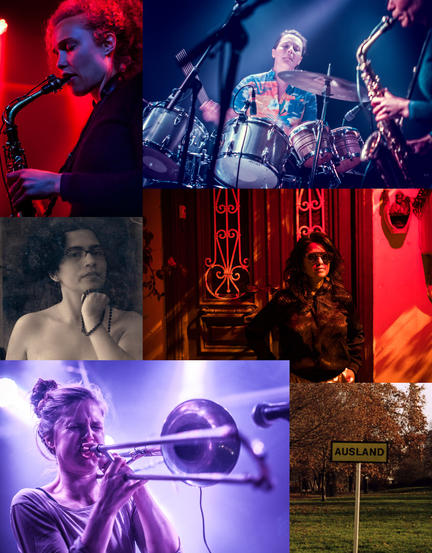 Dialogues with Recordings From The Music´s Past with:
Composer, Producer, Percussionist RENU (Renu Hossain) in dialogue with Jeanne Lee´s "Conspiracy". RENU will use live controlling and sampling of Jeanne Lees album. Futuristic and nostalgic arrangements of the original material. Together with percussion, the live set will be in the similar vein as RENUs live electronic and percussion set of her recently released album "They Dance in the Dark".
Anja Jacobsen, Maria Bertel and Sonja LaBianca in dialogue with The International Sweethearts of Rhythm
Verónica Mota in dialogue with with Nina Simone's "Black Is The Color Of My True Love's Hair" from 1959.


Radio Shows by SissiFM auf rebootFM
Doors open 20:30, concerts start 21:00
Tickets 9 €
mit freundlicher Unterstützung der Senatsverwaltung für Kultur und Europa
---
Infos about the original recordings:
# In the development of more or less abstract scores, Anja Jacobsen, Maria Bertel and Sonja LaBianca take different aspects of long lasting all-woman Jazz ensemble, The International Sweethearts of Rhythm, as a starting point for an evening's concert.
The International Sweethearts of Rhythm:
"The International Sweethearts of Rhythm was an interracial all-female jazz band active for 12 years from 1937 to 1949. The band members included African American and mixed-race young women. In 1943 two white women joined the ensemble making it an interracial band in the Deep South during the Jim Crow era of U.S. history. Their challenge of racial custom and law was compounded by the fact that the mixed-race member of the band was light enough to "pass" for white.
Their status as an interracial band violated both law and custom in Mississippi and across the South. As a result of their violating the usually strictly enforced color line, the members of the band faced constant harassment from law enforcement agencies throughout the region. In addition the band faced scrutiny from both African Americans and whites. White segretationists were disturbed by the group's challenge to the social and cultural norms that required the races remain separate. African Americans feared retribution from white political and economic elites if they were identified as supporting the band. In order to navigate this racial divide the band added "international" to its name. Labeling themselves as international provided the group a social space that allowed the band to rest somewhat outside the Southern racial structure."
www.blackpast.org/aah/international-sweethearts-rhythm-jazz-band-1937-1949
"In the 1940s, when war and the draft dealt a crippling blow to many of the best big bands, there was one the draft couldn't touch: the International Sweethearts of Rhythm. But few critics could bring themselves to take an all-female band seriously, so they were largely overlooked by the press.
In the 1940s, the International Sweethearts of Rhythm fought a two-front war: gender on one side, Jim Crow on the other. When they were rediscovered by academics in the '70s and '80s, it was not in music programs but Women's Studies departments, where they were more important as political symbols than working musicians.
To the Sweethearts, however, it was always about the music. For nearly a decade, these 17 ladies crisscrossed America by sleeper bus, generating excitement and often breaking records set by the big name man-bands.
But sex cut two ways: Audiences saw women and expected a novelty, not a jazz band. Today the Sweethearts' footprint in music history is as petite as Snow White's slipper. Just a handful of recordings survive, most from Armed Forces radio broadcasts. "
https://www.npr.org/2011/03/22/134766828/americas-sweethearts-an-all-girl-band-that-broke-racial-boundaries
https://www.youtube.com/watch?v=94fcqEkPmSk
---
# Verónica Mota presents a visual and audio performance in dialogue with with Nina Simone's "Black Is The Color Of My True Love's Hair from 1959," a composition that honors Black creativity and female political activism.
https://www.youtube.com/watch?v=NWmCbEbMmeU
---
# RENU in dialogue with "Conspiracy" by Jeanne Lee (1975).

"Jeanne Lee (January 29, 1939 – October 25, 2000) was an American jazz singer, poet and composer. Best known for a wide range of vocal styles she mastered, Lee collaborated with numerous distinguished composers and performers who included Gunter Hampel, Ran Blake, Carla Bley, Anthony Braxton, Marion Brown, Archie Shepp, Mal Waldron, and many others."
https://en.wikipedia.org/wiki/Jeanne_Lee
"Lee began to evolve a distinctive version of a very particular musical vocabulary , made up of vocalizations that mute , moving from one node to the "standard" , were gradually undergoing a process of abstraction, repeated and modulated voice with a clear sense of the joint .This peak came his way with his first recording as a "soloist - Conspiracy " comes like a bolt from the blue , dominating from the start as one of the great masterpieces of the jazz of the seventies. An empty space made of primal scream (but imploded ) that refer to Billie Holiday and excellent technique that make it a live issue even Sarah Vaughan. Arranged as a pagan ritual, her voice around the instruments are gathering now determined to do now with calm emotion. Yet , despite its evocative power and its spiritual charge half – time , " Conspiracy " still remains a forgotten masterpiece."
https://whoisthemonk.wordpress.com/2010/12/10/jeanne-lee-conspiracy-1974-2/
https://www.youtube.com/watch?v=CM5lYOOCg6M
---
About the series:
Songs We Taught Your Mother
Dialogues with Recordings From The Music´s Past
Solo artists, bands and duos conceptualize a performative work in dialogue with a recording by one or more female jazz- and blues composers from 1920 until today. These works do not only consider the recordings' sound and musical character, but also the circumstances under which they were made: The desire and necessity to play, obstacles in the way for black women in the music business, political and quotidian events which the composers thematized in their music themselves, etc. Since the early days of jazz and blues women have been part of the movement: Not only as singers, but as instrumentalists, band leaders, composers and arrangers. Often as ghost writers, often paid under the table. Never having been part of the jazz canon or already forgotten. Songs We Taught Your Mother focuses on these women, readdressing the question how gender and origin still influence music production here and now.