(re)Shaping Jazz to Come // vol 1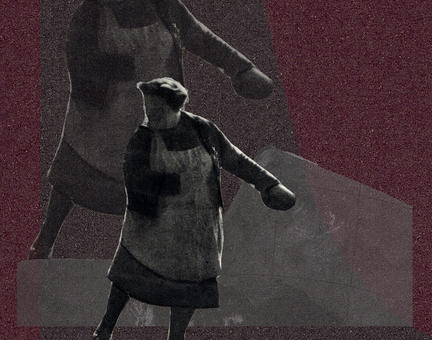 Andrea Parkins (piano, el. accordion, objects, electronics) in dialogue with Albert Ayler's Bells / Ghosts (1964/65)
-----
Liz Kosack (synthesizer) + Cao Thanh Lan (piano) in dialogue with Charlie Parker / Dizzy Gillespie's Bird & Diz (1951)

-----
Els Vandeweyer (vibraphone) + Lina Allemano (trumpet) + Ute Wasserman (voice, objects) in dialogue with Mary Lou Williams' Zodiac Suite (1945)

plus radio programming by SissiFM
** Funded by Senatsverwaltung für Kultur und Europa, Künstlerinnenprogramm
Vol 2 - 04/11/2017 || Vol 3 - 25/11/2017
+++
"(re)Shaping Jazz to Come: Dialogues with Recordings from the Music's Past" commissions artists to conceptualize a performative work and/or collection of ideas that function in dialogue with a recording from jazz history, to consider not only the recording's sound and musical character but also the cultural forces that helped make these sounds possible and how those forces might be reflected upon today. We hope artists don't necessarily 'play' jazz, but rather think about it, explore it, reflect upon it - whether these thoughts involve issues of gender, race, authenticity, hierarchy, or simply "sound" - and consider how these sentiments might be relevant and (re)shaped today.
Background Albert Ayler "Bells":
Ayler recorded Bells on May 1, 1965. It is a ferociously-paced 20-minute improvisation featuring his signature military-march influenced melodies. Spirits Rejoice was recorded on September 23, 1965 at Judson Hall in New York City, and features a much larger band than the sparse trio of his earlier album Spiritual Unity. The Encyclopedia of Popular Music describes Spirits Rejoice as a "riotous, hugely emotional and astonishingly creative celebration of the urge to make noise." Both albums feature Albert's brother, trumpet player Donald Ayler, who translated his brother's expansive approach to improvisation to the trumpet. Donald played with Albert until he experienced a debilitating nervous breakdown in 1967.
Charlie Parker / Dizzy Gillespie Bird & Diz (1951)

https://en.wikipedia.org/wiki/Bird_and_Diz
Mary Lou Williams Zodiac Suite (1945)
This twelve-movement composition–one for each sign of the astrological calendar–originally premiered at New York's Town Hall on December 30, 1945. It featured Williams and her combo, accompanied by a small orchestral ensemble.
Like most jazz-classical experiments, critics didn't quite know how to deal with the Williams suite. Was it jazz? Was it Classical? One review in the New York Times stated: "The piano's part was largely that of the old 'continuo' in the early music… The composition was scarcely a jazz piece at all, making its appeal as more serious work—how successfully time will tell."*
* C.L., "Mary Lou Williams Plays 'Zodiac Suite'," New York Times, 31 December 1945, p. 12
https://amusicology.wordpress.com/2011/01/11/the-zodiac-suite-by-mary-lou-williams/
Artist info here:
Andrea Parkins: https://soundcloud.com/andreaparkins
Liz Kosack: http://www.zardkom.com/projects
Cao Thanh Lan: https://caothanhlan.com/
Els Vandeweyer: http://www.elsvandeweyer.com/
Lina Allemano: linaallemano.com/
Ute Wassermann: http://femmes-savantes.net/lesfemmessavantes/ute-wassermann/
SissiFM: http://sissifm-radio-f.tumblr.com/