(re)Shaping Jazz to Come // vol 1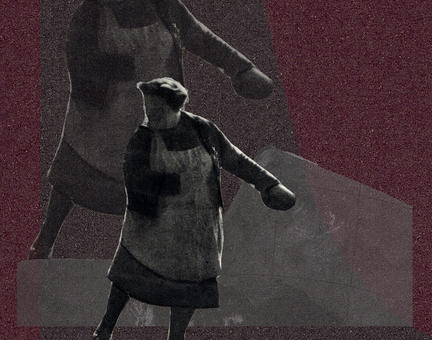 doors 20h30, start 21h
Andrea Parkins (piano, el. accordion, objects, electronics) in dialogue with Albert Ayler's Bells / Ghosts (1964/65)
-----
Liz Kosack (synthesizer) + Cao Thanh Lan (piano) in dialogue with Charlie Parker / Dizzy Gillespie's Bird & Diz (1951)

-----
Els Vandeweyer (vibraphone) + Lina Allemano (trumpet) + Ute Wasserman (voice, objects) in dialogue with Mary Lou Williams' Zodiac Suite (1945)

plus radio programming by SissiFM
** Funded by Senatsverwaltung für Kultur und Europa, Künstlerinnenprogramm
Vol 2 - 04/11/2017 || Vol 3 - 25/11/2017
+++
"(re)Shaping Jazz to Come: Dialogues with Recordings from the Music's Past" commissions artists to conceptualize a performative work and/or collection of ideas that function in dialogue with a recording from jazz history, to consider not only the recording's sound and musical character but also the cultural forces that helped make these sounds possible and how those forces might be reflected upon today. We hope artists don't necessarily 'play' jazz, but rather think about it, explore it, reflect upon it - whether these thoughts involve issues of gender, race, authenticity, hierarchy, or simply "sound" - and consider how these sentiments might be relevant and (re)shaped today.
Background Albert Ayler "Bells" and "Ghosts":
Ayler recorded Bells on May 1,1965 in New York City, just weeks after the assasination of Malcolm X - a boiling point in the US Civil Rights Movement. The recording is a ferociously-paced 20-minute improvisation featuring his signature military-march influenced melodies alongside his brother Donald on trumpet. Ghosts was recorded in 1964, to later be re-relased as the album Vibrations, this time with free-jazz trumpet icon Don Cherry.
For more on Ayler: https://pitchfork.com/features/from-the-pitchfork-review/9857-new-york-is-killing-me-albert-aylers-life-and-death-in-the-jazz-capital/
Charlie Parker / Dizzy Gillespie "Bird & Diz" (1951)

"Bird and Diz" is an iconic recording from the Bebop genre - a musical movement embodying complexity, virtuosity, and coalescing one of the first distinct Black Modernism movements in America. The genre found many musicians - most of them African American - breaking away from the commercial worlds of dance and show bands for an aesthetic that was more abstract, underground, and experimental, although these aesthetics have today come to represent the "fundamental" language of jazz. The bandleaders - Charlie Parker in particular - still stand as some of the most influential and important musicians of 20th century American music.
https://en.wikipedia.org/wiki/Bird_and_Diz
Mary Lou Williams "Zodiac Suite" (1945)
Pianist Mary Lou Williams gained fame at a time when few female musicians were able to do so, particularly as an instrumentalist (female vocalists were somewhat common, female pianists were rare. Other recognized female instrumentalists were almost nonexistent). Williams' harmonic and melodic sensibilities in the late 1920's and 30's were so advanced for their time that she had a marked influence on many early bebop giants, including Dizzy Gillespie and Thelonious Monk. Her 1944 album "Zodiac" - where she interprets the 12 astrological constellations - is the second instrumental trio album with her as leader, something almost unheard-of for a woman at this time. Her arrangements and ensemble feel are equally modern, and the album remains strikingly unique and particular today.
Sissi FM @ Reshaping Jazz
plays recordings which are put into dialogue as part of the festival
as well as recordings which are not, ponders about who re-shapes jazz and who
doesn´t, follows and meanders on pathways of it´s own and visits
some of the artists on their journey through jazz history up to the
present.
Artist info here:
Andrea Parkins: https://soundcloud.com/andreaparkins
Liz Kosack: http://www.zardkom.com/projects
Cao Thanh Lan: https://caothanhlan.com/
Els Vandeweyer: http://www.elsvandeweyer.com/
Lina Allemano: linaallemano.com/
Ute Wassermann: http://femmes-savantes.net/lesfemmessavantes/ute-wassermann/
SissiFM: http://sissifm-radio-f.tumblr.com/
(SISSI FM: Every 1. and 3. Sunday at 10.30 pm on reboot.fm. Your feminist radio show: We are passionately live, performative to the bones, we love voices, fights and feelings & we will never speak the truth.)
tickets 7-9€