Liz Kosack
Submitted by Anonymous on Fri, 2015-02-27 14:00.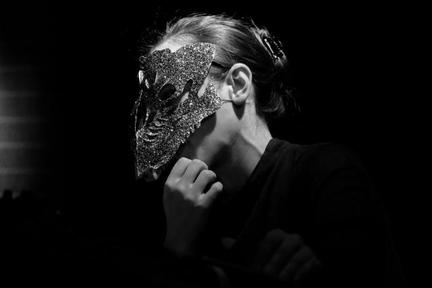 Liz Kosack is a US born, Berlin-based synthesizer player and mask maker. With a unique voice on keyboards in improvised and experimental musics, she has been active internationally with a host of projects and musicians from the current contemporary improv scene, co-leading creative projects such as the Brooklyn-born VAX (Devin Gray, Patrick Breiner), The Hero of Warchester (Anna Webber, Nathaniel Morgan), and Berlin groups like The Liz (Korhan "Liz" Erel, Liz Allbee), **Y** (Dan Peter Sundland, Steve Heather), SPOILER (Julia Reidy, Sam Hall, Brad Henkel), Meow! (Cansu Tanrikulu, D.P.S., Jim Black), Powerboat (Farida Amadou, Dag Magnus Narvesen) KIM Collective, among many other collaborations and formations with a colorful scope of artists, often employing multidisciplinary craft with visuals and performative elements.
As a synthesizer player, she works to develop her instrument to the limits of its expressive potential. As a mask maker, her work seeks both to create and overcome issues of identity. Awarded the SWR Jazzpreis in 2019.
"Liz Kosack is the janitor of the cat empire"
- Henning Bolte, All About Jazz
https://www.arte.tv/de/videos/098344-027-A/liz-kosack-flughafen-tempelhof/