Taking Things Apart : Day 1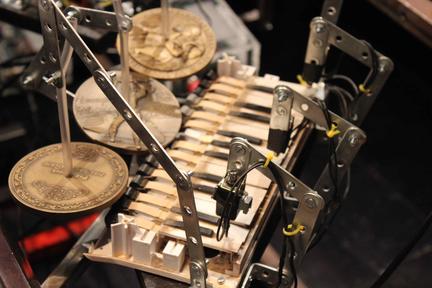 TAKING THINGS APART
specification enables further specification: a three day festival with new and developing sound works
taking apart the notion of composition and putting things back together.
doors: 19h30 | concert: 20h00
Festival Day 1:
sculpture concert installation objects video
Phobos - Dysfunctional Robotic Orchestra
with and by: Gustavo Costa, Alberto Lopes and Tiago Angel
Phobos is a set of small robots and automatic music generation devices that form a Disfunctional Robotic Orchestra, an orchestra with strange instruments with defects, genetic mutations and erratic behaviors.
Phobos represents a critique of the technological overlapping over human thought, the function of labour and modern forms of slavery, as well as an historical retrospective of the various attempts of human liberation through machines, its technological utopias, the advances and retreats of freedoms. Its name comes from greek mythology, where Phobos is the incarnation of fear, and is also the name of the largest moon of Mars, doomed to disappear due to the proximity of its orbit to the planet.
http://www.sonoscopia.pt/en/works/phobos

Liz Kosack
presents a new solo work in anticipation of her new album at the end of the year.
Mieko Suzuki & Claudia Rohrmoser (Videoinstallation)
For their joint experimental video work visual artist Claudia Rohrmoser adn sound artist Mieko Suzuki share vinyl as the same source to explore the mutual influences of analogue material, sound and image. In her sound design Mieko Suzuki uses broken and prepared records, turntables, effector pedals, and various props. She creates a slowly evolving, dynamic and bass driven sound texture that is rooted both in noise and electronic music.
Claudia Rohrmoser transforms still images of vinyl fragments, hand-drawn discs and Mieko Suzuki's prepared records into a vivid visual universe. Exploring the characteristics of the given shapes and surfaces she generates dynamic virtual spaces from the grooves' textures. The animations are created merely by digitally spinning visual discs and projecting textures onto virtual 3D objects.
8€ / 20€ weekend pass
Mit freundlicher Unterstützung des Musikfonds und des Bezirksamts Pankow von Berlin - Amt für Weiterbildung und Kultur - FB Kunst und Kultur