Taking Things Apart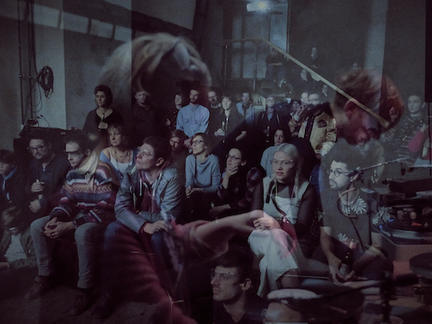 a microcosmic sound festival in ausland focusing on artists who understand music and sound as a something made from materials, surroundings and ideas, using both analog and self-made instruments as well as objects as the their contextual inspiration and as their sources of sound.
For the festival, the invited artists will be asked to compose and present new works reflecting the microcosmic in the form of a concert or a sound-performance. The compositions will be prepared within the vocabulary and tools of each selected artist, asking them to dig deeper into an already developed practice or body of work and reveal new layers within that existing frame. Taking Things Apart will thus be the analysis and exposition of these excavations, presenting microscopic findings on the scale of a microscopic festival.
ausland commissions artists to create new compositions that dig deeper into their specified areas of concentration – into their own sound vocabulary, into their own developed practice – and to create a moment to share as a public piece. the development of the compositions and sound pieces will be printed in a small pamphlet in the form of collage, photos, drawings, texts, interviews, notes and notes.
*****
Ein mikrocosmisches Klangkunst Festival, das an drei Abenden mit unterschiedlichen Schwerpunkten die Arbeiten von Künstler*innen präsentiert, die Musik als etwas verstehen, das vor allem aus Materialien und Ideen geformt wird. Sie beschäftigen sich klanglich mit Mikrokosmen, und verwenden sowohl Objekte als auch deren kontextuelle Inspiration als Klangquellen. Die fortwährende akribische Forschung, das Experiment und die De/Konstruktion in selbst geschaffenen Nischen erfordern neue Wege der Klangproduktion und erweitern das musikalische Alphabet.
Das ausland beauftragt die Musiker mit neuen Kompositionen noch tiefer in ihre Spezialgebiete und das Klangvokabular vorzudringen und fordert dazu auf, die bereits existierende Praxen zu vertiefen und dabei neue Ebenen der Arbeit offen zu legen.Die Wege zu den neu entstandenen Werken werden in einem Begleitbroschüre als Mischung aus Collage, Zeichnung, Text und Interviews gedruckt.
Künstler*innen 2018 / Participating Artists 2018:
Liz Kosack, Mieko Suzuki & Claudia Rohrmoser, Sonoscopia/Phobos (Gustavo Costa, Alberto Lopes and Tiago Angel), Anne Historical (aka Bettina Malcomess), Vinyl Terror & Horror, DJ Marcelle, Christina Ertl-Shirley, Felicity Mangan, Gretchen Blegen, Mario de Vega, Heike Vester & Madita Zetzsche / Ocean Sounds
Produktions-Team und Credits:
Eine Produktion von ausland / projekt archiv e. V.
Künstlerische Leitung: Gretchen Blegen und Christina Ertl-Shirley (2018)
Produktion: Bürorix
Öffentlichkeitsarbeit: ausland / Christina Ertl-Shirley / Digital in Berlin
Ton: Inês Lamares
Assistenz Ton: Hila Lahav & Maya Weinberg
Grafik: Christine Kriegerowski mit Gretchen Blegen und Bettina Malcomess
Fotos: Dasha Zorkina
Mit freundlicher Unterstützung des Bezirksamts Pankow von Berlin - Amt für Weiterbildung und Kultur - FB Kunst und Kultur und des Musikfonds e.V.