Riccardo La Foresta
Submitted by
gretchen
on Thu, 2019-10-24 13:20.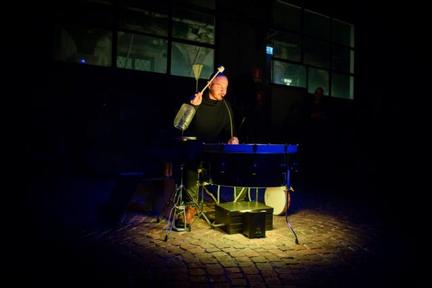 Riccardo La Foresta is a percussionist, composer and improviser from Modena (Italy) whose interests range from improvisation and composition, sound performance and sound art.
His research led him to use the drum as a wind instrument with a special self-made system, drastically moving away from traditional drumming.
It's called Drummophone and was officially presented at Tempo Reale in 2017. In recent years he has been constantly touring Europe with Sho Shin Duo and his solo project, collaborating with musicians such as Axel Dörner, Lê Quan Ninh, Anthony Pateras, John Butcher, Michel Doneda, Massimo Pupillo, Toma Gouband, Stefano Pilia, Chris Corsano, Otomo Yoshihide, Ingar Zach and many others. He has played in France, Switzerland, Holland, Sweden, Germany, Poland, Austria, Belgium, Portugal, and Italy in some of the most important organizations for experimental music such as Angelica Festival, Path Festival, Area Sismica, Centro D'arte di Padova, Tempo Reale, La Digestion, NODE festival, Milano Musica, Macao ect.
His previous record releases, with mainly avant-jazz or free jazz ensembles, have been published on El Gallo Rojo, Troglosound, Setola di Maiale and broadcasted in Europe, UK and Canada. Graduated as a jazz drummer at the conservatories of Ferrara and Parma, he also studied at KMH in Stockholm and since 2013 he has been active as a music teacher and organizer of experimental music concerts in the Modena area, mainly with his organization Bæd and since 2018 with NODE festival.
On September 24th 2019 he released his first solo cassette "Does the world need another drum solo?" on Yerevan Tapes. This is a photograph of the most recent evolution of the Drummophone: resonances and vibrations generated on two bass drums through the use of compressors that push the air on the skins. The recording took place inside the atrium of the former Sant'Agostino Hospital in Modena, whose architecture is characterized by a complex reverberation wisely captured by the microphones of Renato Grieco (kNN), leading to an acousmatic and psycho-acoustic result.
The two sides (Yes / No) lead the listener to a crossroads between significant and signifier of drum solo, in contrast with the concept of percussion.
In February 2020 will be released "Drummophone", a new solo LP on the label http://www.kohlhaas.it
https://riccardolaforesta.tumblr.com
https://yerevantapes.bandcamp.com/album/does-the-world-need-another-drum-solo