Sajjra Xhrs Galarreta (Chris Galarreta)
Submitted by Anonymous on Sun, 2015-05-10 12:46.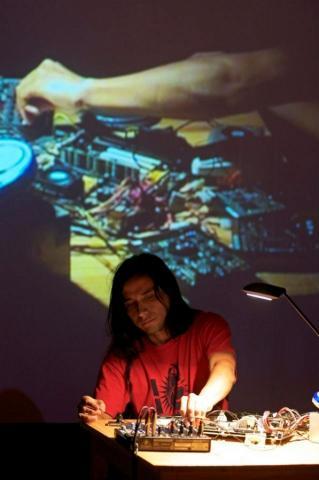 Sajjra Xhrs Galarreta has been very active in the South American experimental scene since 1995. The sublime and the uncertainty are present in his actions. He is mostly interested in the exploration of life and its acoustics to create immersive live experiences, experimental songs and des-compositions, hacking the human perception of space-time as a form of civil disobedience and social auto-reorganization. Galarreta comes mostly from an autodidact formation. He is founder and member of the independent label and association Aloardi (since 1998) and of bands like Sajjra (current solo harsh-pop project), DiosMeHaViolado (soloist project sometimes in collaboration with Claudia Machuca, Fabian Escalante, Yuri Gutierrez and Aldo Castillejos), Evamuss (as soloist), Azucena Kantrix (with Wilder Gonzales), Tica (with Fabiola Vasquez), Garrapata (with Gabriel Castillo and Rolando Apolo), Ninguna Ninfula (with Sabrina Melenotte), Miasma (with Sergio Sanchez), 50 Otages (with Mathiu Finisterre, Bernard Bruit and Julien Otavi) among others. He also collaborated with artists, labels and collectives around the world such as Zbigniew Karkowski, Jorge Castro (Cornucopia), N'alov, Leo Sabatto (Armenia), Janneke van der Putten, Pablo Reche, Anton Mobin, Dj Urine, David Kraapoola, Dave Phillips, Jorge Haro, Sub Rosa, Microbio Records, APO33, Platoniq, Sonic Art Networks, Manuel Rocha Iturbide, Tsonami, Sebastian Ortiz and Ignacio Rus.
In 2013 he developed his independent projects at the Institute of Sonology in The Hague. Today he lives between Peru, France and The Netherlands. His work has taken him to make concerts, installations, performances, lectures and workshops in Latin America and Europe such as Academy of Fine Arts, (Vienna, 2013 & 2014), Plateforme Intermédia / La Fabrique (Nantes, 2011) and Aural – Sound Art Festival (México D.F., 2009). (http://sajjra.net/chrs/)