Samo Kutin
Submitted by
Mathias
on Mon, 2018-01-15 14:30.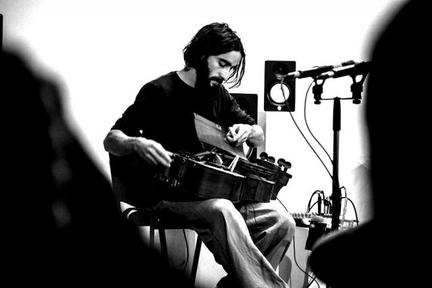 Samo Kutin, born in 1982, is known for his use of unconventional instruments, be it instruments that have already disappeared from everyday use or sound-making contraptions that feature strings, wood, pumpkins, stone, glass and waste material. One of the traditional instruments in his repertoire is the Hungarian medieval stringed instrument hurdy gurdy, which he can be seen playing at events of experimental and improvised music. He organises children's workshops, makes music for storytelling and theatre performances and is a member of a number of formations, including Širom, Najoua, Samo Gromofon and Salamandra salamandra.
When it comes to non-idiomatic improvisation, Samo has been exploring at length in recent years the sound and noise potential of the hurdy gurdy. He has been using effective accessories with the instrument and amplifying it in a convincing manner with intentional roughness with the help of contact microphones and acoustic resonators such as springs and drums. One could say that it is above all the use of contact microphones that helps him scan and bring to the surface the processes taking place in the "guts" of the instrument, while the direct physical methods allow him to cause and locate previously unknown frictions.