BAKU: Baltschun/ Kutin+ Altenburger/ Bertoncini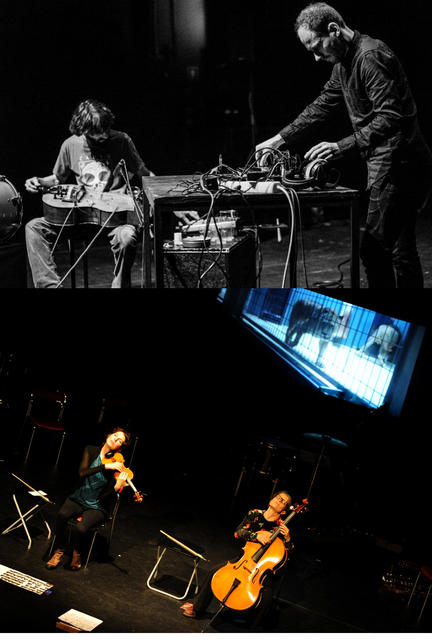 BAKU: Baltschun/Kutin
Boris Baltschun – analog synthesizer
Samo Kutin – hurdy gurdy
Altenburger/Bertoncini
Tiziana Bertoncini – violin
Martine Altenburger – cello
performing Jennifer Walshe: Wash me Whiter than Snow and improvisations
BAKU first met through Brane Zorman in Ljubljana in March 2016. They were invited to collaborate as part of CONA's series ZVO.ČI.TI, work together for a week and play two concerts in Koper and Ljubljana. Despite their apparently quite different instruments they quickly discovered a lot of common ground. Right from the beginning they were fascinated by the proximity of the sounds they could produce on their respective instruments and started to develop a playing style at times sounding like the instruments processing each other. They continued their collaboration in 2017, performing at the Sound Disobedience Festival and recording in a studio in the hills near Ljubljana. The concert at biegungen will be their Berlin premiere.
Martine Altenburger and Tiziana Bertoncini collaborate since 2006 within the ensemble]h[iatus, as interpreters of contemporary music and improvisers. Since the beginning they have been pursued projects with smaller instrumentations, notably in trio and since 2013 also in duo. Beside the contemporary forms of music, they are interested in the crossings of music and performance and in the collaboration with composers, who challenge the "habits" of the instrumentalist, putting him/her in uncomfortable and unconventional situations.
Together with the singer Aurélie Maisonneuve they created the performance for children Animalitas.
In Wash Me Whiter Than Snow – composed in 2013 for Altenburger and Bertoncini by Jennifer Walshe – the instrumental playing is totally decomposed and combined with furtive and daily gestures, with postures caught on photographs and with a video projected behind the musicians. The precision, juxtapositions and friction of these elements create a poetics beyond all definitions.
Supported by Senatsverwaltung für Kultur und Europa
Presented by Digital in Berlin
Doors: 8.30 pm
Concert start: 9.00 pm