「星の影」Hiromi Sunaga | Saori Hala | Tukico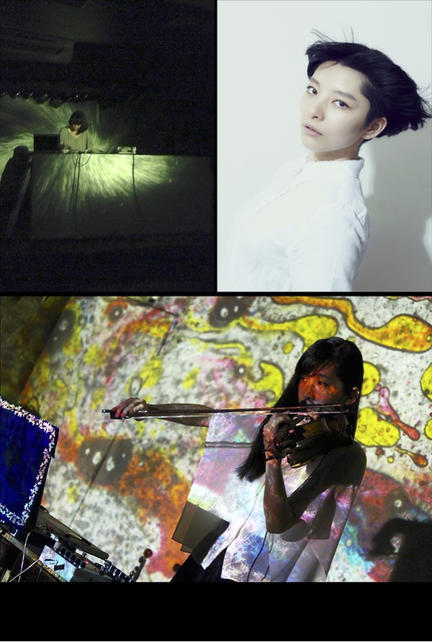 Doors 20:00, Start 21:00 「星の影」[Hoshi no Kage]
Concert | Performance
Tukico aka. Hoshiko Yamane
Tukico ist ein solo Projekt von Hoshiko Yamane. Sie komponiert und gibt Konzerte in
Berlin und Japan. Sie spielt elektronische Musik und Live Geige dazu. Ihre komponierte
Stücke wurde Audio-webmagazin(UK),Animation video(JP) gezeigt und Video art-Musik
Werke in Japan verkauft.
Hoshiko Yamane ist eine japanische Violinistin und Komponistin in Berlin.
Studierte klassische Musik in Nagoya,Japan und in Rostock,Deutschland. Seit 2011 ist
sie Mitglieder von Tangerine Dream(DE). Sie arbeitet noch mit Jane Birkin(FR),Sub-tle.
(DE),motimaru dance company(DE) und viele Musiker und Tänzer. Sie hat ihre eigene
contemporary Tanzgruppe Tansik' und eigene Duo mit Klangstein 'KiSeki'.
Tukico aka Hoshiko Yamane's performance created a transcendence of its own. (Tukico)Hoshiko Yamane is a solo project from Japan-native, Berlin-based violinist, Hoshiko Yamane. Yamane, a classically trained violinist, joined the German electronic music group Tangerine Dream in 2011 and since then has been recording and touring with them. Last April, Yamane decided to start experimenting with electronic music on her own. The outcome of these efforts is (Tukico)Hoshiko Yamane, a fusion of deep, heavy beats laced with the brilliance of her electric violin.(berlinartlink)
Hiromi Sunaga
Electronic music / video artist living in berlin Prefecture.
Started her activities such as analog recording and video production in 2007, mainly in Tokyo.
Produces acoustic works which utilize places / open spaces where sounds such as ambient and drone exist with her theme of "Thinking the acoustic memory, overlap and melting beauty".
Hosts the ambient event called <Shadow of Stars> at the old church in the suburbs with handmade atmosphere.
Saori Hala
She is an artist who works with a diverse range of media, including movement, film, light, sound and drawings.
Her work is connected through the constant presence of the theme of "affordance". She started to dance since her childhood and explored in both fields of body art and visual communication during her university days in Japan.
Currently underway of performing arts study at Hochschulübergreifendes Zentrum Tanz Berlin.