SHE*FIX // WORKSHOPS FOR FLINTA*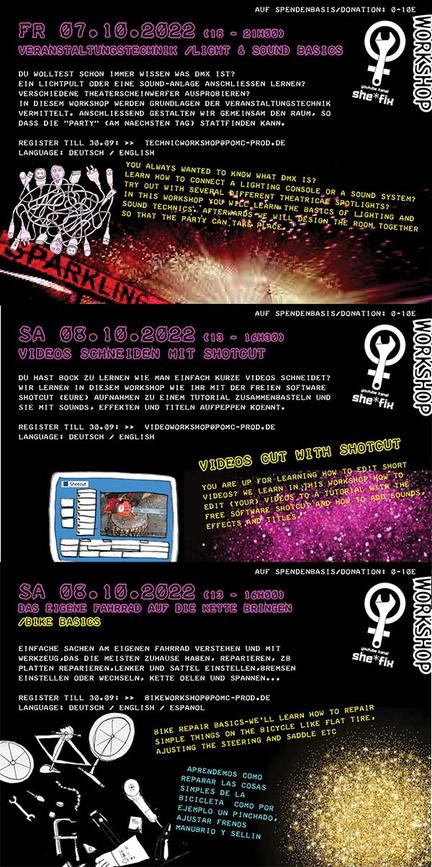 WORKSHOP 1) Fr, 7.10. | 6-20.30 UHR | Veranstaltungstechnik - Basics
Du wolltest schon immer wissen was DMX ist? Ein Lichtpult oder eine Sound-Anlage anschliessen lernen? Verschiedene Theaterscheinwerfer ausprobieren? In diesem Workshop werden Grundlagen der Veranstaltungstechnik vermittelt. Anschliessend gestalten wir gemeinsam den Raum, so dass die "Party" (am nächsten Tag) stattfinden kann.
You always wanted to know what DMX is? Learn how to connect a lighting console or a sound system? Try out with several different theatrical spotlights? In this workshop you will learn the basics of lighting and sound technics. Afterwards we will design the room together so that the "party" can take place.
Auf Spendenbasis/Donation: 0-10€. Anmeldungen / Please register: technicworkshop@pomc-prod.de

WORKSHOP 2) Sa, 8.10. | 13-16.30 UHR | Videos schneiden mit Shotcut
Du hast Bock zu lernen wie man einfach kurze Videos schneidet? Wir lernen in diesem Workshop wie ihr mit der freien Software Shotcut (eure) Aufnahmen zu einem Tutorial zusammenbasteln und sie mit Sounds, Effekten und Titeln aufpeppen könnt.
You are up for learning how to edit short videos? We learn in this workshop how to edit (your) videos to a tutorial with the free software shotcut and how to add sounds, effects and titles.
Auf Spendenbasis/Donation: 0-10€.
Anmeldungen bitte / Please register: videoworkshop@pomc-prod.de
WORKSHOP 3) Sa, 8.10. | 13-16.00 UHR | das eigene Fahrrad auf die Kette kriegen - Bike Basics
Einfache Sachen am eigenen Fahrrad verstehen und mit Werkzeug,das die meisten zuhause haben, reparieren, zb Platten reparieren,Lenker und Sattel einstellen,Bremsen einstellen oder wechseln, Kette ölen und spannen...
Bike repair basics-we'll learn how to repair simple things on the bicycle like flat tire, ajusting the steering and saddle etc
Aprendemos como reparar las cosas simples de la bicicleta como por ejemplo un pinchado, ajustar frenos manubrio y sellin
Auf Spendenbasis/Donation: 0-10€.
Anmeldungen bitte/ Please register: bikeworkshop@pomc-prod.de
she*fix sind FLINTA*s, die Technik und Feminismus gut finden. Unter uns sind technisch Versierte und Interessierte, Fahrradmechaniker*innen und Künstler*innen, Tüftler*innen und Bastler*innen - und noch Viele mehr! Wir haben Spaß daran, gemeinsam Lösungen für technische Probleme zu finden und zusammen zu lernen. Einige bisherige Projekte:Tech-Workshops für FLINT*, Aufbau des she*fix tutorials Youtube-Kanals, Veranstaltung des Techatons (Camp für FLINT* zum gemeinschaftlichen Tech-Tutorials drehen). Wir tragen bei zu einer FLINTA*-Community, die sich unterstützt und empowert, indem sie Wissen und Fähigkeiten intern und extern teilt!
Und hier der SHEFIX YOUTUBEKANAL