Stupid Green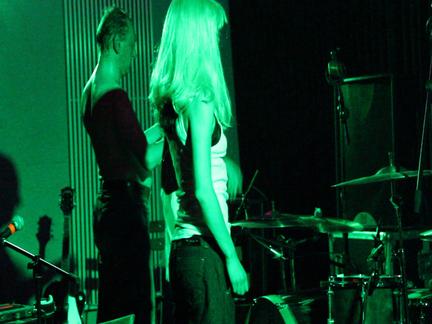 Stupid Green besteht aus Jochen Arbeit (Einstürzende Neubauten) und Vania Rovisco (Meg Stuart/Damaged Golds). Seit dem Jahre 2006 arbeiten der Musiker und die Performance-Künstlerin in verschiedensten Projekten und Kunstformen zusammen, in denen sie sich in erster Linie mit dem Verhältnis zwischen Musik und Performance auseinander setzen. Wo es passt, laden Arbeit und Rovisco dazu andere Künstler_innen unterschiedlichster Kunstformen- und Praxen ein. Aus diesen Kollaborationen entstehen zumeist Präsentationen, die sich um Performance, Klang, Atmosphäre und Raum drehen.
Die Präsentation, die im ausland stattfindet, thematisiert die Ausdauer des tanzenden Körpers und die Wahrnehmung von Klängen, als Antriebs- und Transportmittel. Stupid Green freut sich auf die Begegnung.
Stupid Green is devised by musician Jochen Arbeit (Einstruzende Neubauten) and performing artist Vania Rovisco (Meg Stuart/Damaged Goods) who since 2006 collaborate in the many diverse forms of presenting and conceiving how music and performance co-exist. Since it is the core of both artists, when opportune, they invite and collaborate with others artists from various mediums - creating presentations centered around performance, sound atmospheres and space/set.
The work to be presented in ausland centers on the dance endurance body as well as perceiving sound as a motor and as transport. Stupid Green has the pleasure of inviting all to the dance floor, where the season surely continues to be declared open on the stages of Berlin.
Jochen Arbeit
Zieht 1980 nach Berlin und wird Teil der freien Künstler- und Musikbewegung "Geniale Dilettanen", die ihre Wurzeln im Punk Rock und Dada hat. Im Jahr 1983 wird er Mitglied der einflussreichen Instrumental-Band "Die Haut", mit der er in Europa und Übersee auf Tournee geht. Mit den gleichgesinnt "Artists as Singers", USA, bringen sie einige Alben heraus. Die Band trug immer Anzüge auf der Bühne.
1997 wird er offizielles Mitglied der Avantgarde Noise Band "Einstürzende Neubauten", mit der er in den frühen achtziger Jahren zusammengekommen war, und ist seither an allen Alben und Touren beteiligt. Weitere Projekte waren u.a. die Berliner Country-Style Band "The Jever Mountain Boys", und sind noch immer die Soul Band "Martin Dean", die Band des Malers Martin Eder "Richard Ruin et Les Demoniaques" und das Big Band Projekt "Latin Lovers" mit Yoyo Röhm, in das Elemente des Tiki und Latin einfließen. Mit den Performance-Künstlern Abraham Hurtado und Vania Rovisco gründete er das Kunstnetzwerk "Aktuelle Architektur der Kultur" (AADK), das seit 2006 aktiv ist. Mit Julian Rosefeldt kreierte und performierte er die Musik für "Milk" in Düsseldorf. Für die Installation-Performance "No Title, but Layers", eine Zusammenarbeit zwischen den Künstlern Hans Demeulenare und Vania Rovisco, schuf er ein Surround Sound auf 4.1. Ausserdem performte er in "Layer # # The Performance Layer". Im Jahr 2007 brachte er mit den Einstürzenden Neubauten das Album "Alles wieder offen" heraus, 2008 das Album "Juwelen", und tourte durch ganz Europa. Er veröffentlichte sein erstes Solo-Album "Arbeit Solo" auf Potomak Records, in dem einige seiner eigenen Stücke von oben erwähnten Arbeiten vorgestellt werden sowie weitere Stücke aus Film-, Video-, Theater-, Performance- und Sound Scapes- Arbeiten. Im Jahr 2009 schuf er mit Martin Eder 4.1 Soundscapes für dessen Einzelausstellung in der Kunsthalle im Lipsiusbau in Dresden. Seit November 2011 spielt Arbeit in einem neuen Projekt mit Georg Zeitblom, Boris Wilsdorf und Achim Färber unter dem Namen AUTOMAT.
Vania Rovisco
Vania Rovisco (PT/GR) attended the Course of Contemporary Dance for Interpreters by Forum Dança in Lisbon. Her professional career instigated with Meg Stuart/Damaged Goods from 2001-2007, in various pieces and improvisational projects. Having also collaborated with Pierre Colibeuf; Helena Waldman; Gordon Monahan; Jochen Arbeit; Julian Rosefeldt; amongst others. Extended her tools and craft into directing movement for theater pieces; improvises with a musical instrument – the horn; conceives spaces for her installations; edits video work; creates installations inviting various artists; co-ordinates artistic working processes; directs performative events and interactions; coaches and gives workshops. Member of the International Council of Dance CID - UNESCO since 2012. Co-founder of the artistic network Aktuelle Architektur der Kultur, AADK, a platform existing in Berlin, Portugal and Spain www.aadk.org.