Tomomi Adachi
Submitted by Anonymous on Sun, 2015-05-10 12:20.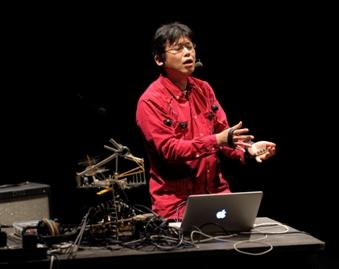 Adachi Tomomi (family name is ADACHI), born in Kanazawa, Japan in 1972, is performer, composer, sound poet, installation artist, occasional theater director. He studied philosophy and aesthetics at Waseda University in Tokyo. He has played improvised music with voice, live electronics and self-made instruments. He had composed works for his own group "Adachi Tomomi Royal Chorus" which is a punk-style choir. He has performed contemporary music: vocal, live-electronics or performance works by John Cage, Cornelius Cardew, Christian Wolff, Tom Johnson, Dieter Schnebel, TAKAHASHI Yuji, YUASA Joji and Fluxus including world premiere and Japan premiere as Cage's "Variations VII," "Europera 5," and "Waterwalk". He is the only performer of sound poetry in Japan and has performed Kurt Schwitters' "Ursonate" for the first time in Japan. He has made several sound installations and original instruments (e.g."Tomomin", his hand made electric instrument is familiar with many musicians). In the field of theater music, he has collaborated with some experimental theaters and dancers. He also has organized many concerts which picks up experimental music, sound art, collaboration work and inter-disciplinary performance in Japan and Germany, include concerts with Chris Mann, Trevor Wishart, Nicolas Collins and STEIM in Japan. He founded "Ensemble for Experimental Music and Theater" with his students in Tokyo in 2011, the group is working for pieces by Fluxus and recent conceptual composers.
He has performed with numerous musicians, dancers and film makers including Jaap Blonk, Nicolas Collins, Carl Stone, TAKAHASHI Yuji, SAKATA Akira, ICHIYANAGI Toshi, TANAKA Yumiko, dj sniff, Jerome Noetinger, SUZUKI Akio, Alessandro Bosseti, FURUDATE Tetsuo, Jennifer Walshe, Annette Krebs, Dickson Dee, Zbigniew Karkowski, Johannes Bergmark, Erhart hirt, MAKIGAMI Koichi, Butch Morris, Jon Rose, OTOMO Yoshihide, ITOH Kim, Monika Klingler, IIMURA Takahiko, ISHIDA Takashi. He has presented his works in Japan, Europe, U.S., Australia and other asian countries at many kinds venues include Tate Modern, IRCAM/Centre Pompidou, Haus der Berliner Festspiele, Akademie der Kuenste Berlin, Waker Art Center, STEIM, Experimental Intermedia, ZKM, Merkin Hall, Ontological-Hysteric Theater, Roulette, Tonic, The National Museum of Art Osaka, Super Deluxe, La Mama Theatre Melbourne, Anthology Film Archives, 21th Century Museum of Contemporary Art Kanazawa and Vooruit. He has given lectures at Tama Art University, Yotsuya Art Studium, School of the Art Institute of Chicago, Mills College, Bard College and London College of Communication. As a critic, he has written about visual art, music and performance art on papers and magazines. He had participated in an art theory bulletin "Method" 2000-2001. He started visual art (video and installation) in 2003. He stayed in New York 2009-2010 as an Asian Cultural Council grantee. Also he was awarded the DAAD invited composer for Berlin 2012. His CDs were released from Naya Records, Tzadik and Omegapoint.
Recently, he is focusing his activities on solo performance (with voice, sensors, computer, self-made instruments), sound poetry (especially to the unknown great Japanese sound poetry tradition), video installation and workshop style big ensemble with non-professional voices and instruments. Currently living in Berlin and Tokyo.