Trio Hayward/Shirley/Borel + Laurain + Klug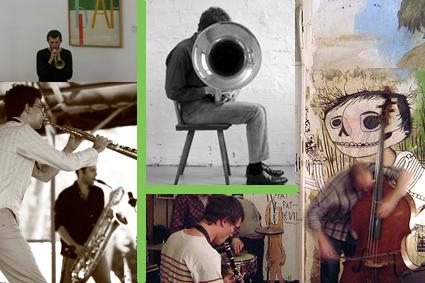 Trio Hayward/Shirley/Borel
Robin Hayward - tuba
Derek Shirley - double bass
Pierre Borel - saxophone
Louis Laurain solo
Louis Laurain - trumpet
Bernd Klug solo: "a cupreous donkey"
Bernd Klug - double bass

Derek Shirley und Pierre Borel arbeiten seit 2008 in dem Trio Obliq zusammen (mit dem Schlagzeuger Hannes Lingens), in dem sie sich vor allem auf organische und minimalistiasche Klangwelten konzentrieren. In diesem Konzert treffen sie auf Robin Hayward, der für seine Redefinition des Tubaspiels im Kontext von Noise und Mikrotonalität international bekannt ist.
Louis Laurain verfolgt in seinem Solospiel sowie in seinen Kollaborationen mit anderen Musikern eine spontane und intuitive Herangehensweise an Musik. Dabei orientiert sich sein Spiel zum einen an den akustischen Möglichkeiten der Trompete, wobei er erweitere Techniken verwendet, und zum anderen an den Möglichkeiten der Verstärkung ("close miking") mit dem Ziel, die Illusion eines elektrischen oder elektronischen Maschinen-Instruments zu erzeugen.
Fokussiert auf die Eigenfrequenzen des Instrumentes, des Raumes und deren Resonanzen und Rückkoppelungen präsentiert sich der Kontrabassist Bernd Klug in seinem "a cupreous donkey" betitelten Programm als eine Art "live Klanginstallation". Die Interaktion von Instrument und Raum wird zur Form und die Interferenzen des Menschlichen erzeugen die Struktur. Aufmerksamkeit verändert die Intention; Angst wird zur Ästhetik.
Derek Shirley and Pierre Borel work together since 2008, in the trio Obliq where they focus on organic minimal sounds. For this concert, they invite Robin Hayward, widely known as a revolutionnary-master of the tuba, rare instrument in a context of research and experiment, he has developped since more than 10 years, a one of a kind language, extending in a dramatic and spectacular way the tuba's idiom.
http://soundcloud.com/louis-laurain-1/yo-louis-extrait
Einlass: 21 Uhr
Beginn: 22 Uhr
Im Rahmen von ohrenstrand.net