Louis Laurain
Submitted by
Melodie
on Sun, 2011-01-23 21:50.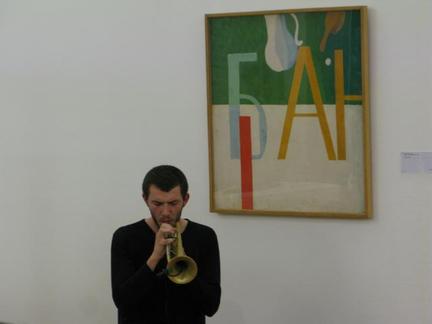 Born in 1984, he starts the trumpet as a self-taught musician. Since 2007 he has studyed improvisation at the Paris Superior Conservatory.
He is specialy interested by free forms of improvisation in music (energic free-jazz, noise and minimalism). He 's currently working with the free-jazz quartet ACTUUM (concert at the Vilette Jazz Festival in Sept 2009 and Best Band at the 2010 European Jazz Awards in Amsterdam). He also works with the trio DOLSE (Warnecke/Laurain/Svensson). They recorded an album in november in Berlin and they will be on tour in France at the beginning a february. (Paris, Bordeaux, Marseilles, Lyon).
He regularly performs improvised duet or trio performances in Paris with the bass player Joel grip (Umlaut records) and the saxophone player Yoann Durant.
Since 2010 he performs a solo performance (he'll will play the 8th of february at the FRIM festival in stockholm).
He has played in the U.S. with the trio Ake/Roth/lLaurain and in Mali with traditionnal griots singers (2008) and in sweden with the band Parlan (with meshuggah's bass player Dick Lovgren).
He recently collaborated with the French artist Pierre Huygues for a performance at the Musée des Arts Populaires
Projects :
ACTUUM : http://www.collectifcoax.com/coax/actuum.html
DOLSE : www.dolsedolse.blogspot.com
Grip/Laurain/Durant trio
Durant/Laurain duo
"Blows" (solo)
Parlän
Concerts :
Paris (grande halle de la vilette, cité de la musique, centre
pompidou), Berlin (theaterkapelle), London (vortex), Stockholm, Gothenburg(nefertiti jazz club, Glenn miller café), Amsterdam, US (reno jazz festival), Mali (festival du désert).