Trockenschwimmen: Roboterorchester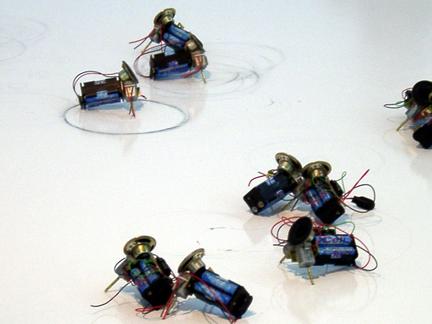 english version below
Im Oktober 2007 feierten KH Jeron und Will work for Food Erntedankest im ausland. Nun wollen wir die Maschinen mit Kulturarbeit und Hausmusik betrauen:
Wir bauen ein Roboterorchester
Roboter arbeiten in der Industrie, sie können im Haushalt helfen oder Fußball spielen.
Du willst auch einen Roboter bauen, aber nur wie?
Mit einfachen Bausteinen werden Roboter zusammensetzt, die sich bewegen und Töne erzeugen. Das Ziel des Workshop ist eine Aufführung der gebauten Roboter als Orchester.
Die TeilnehmerInnenzahl ist begrenzt, Anmeldung unter luziferase at gmx.de
Workshopgebühr 50 €
19.-21.6.09 10 -16 Uhr
In October 2007 KH Jeron and Will Work for Food celebrated Thanksgiving in ausland. Now we want to entrust machines with cultural work and family music:

We will construct a robot orchestra
Robots work in industry, help at home and play soccer. If you want to build a robot, the question is: How?
We will construct robots from simple parts. Robots that move and make sounds. The goal of the workshop will be to create a performance, performed by the robots as an orchestra.
The number of participants is limited, workshop fee 50 €
19.-21.06.09 10-16 Uhr
Register at luziferase at gmx.de