Voutchkova/ Maras + Johansson/ Heenan/ Honsinger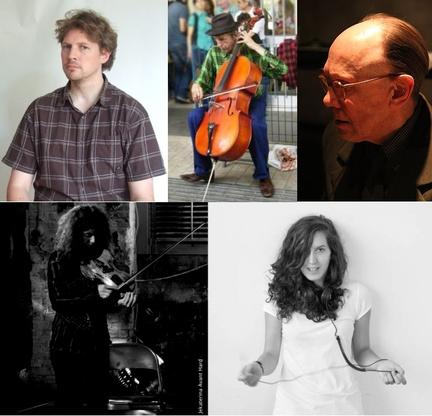 Voutchkova/Maraš
Biliana Voutchkova - violin/composition
Svetlana Maraš - sound art/composition
The duo had their first encounter in 2007 performing for the Swiss-Balkan Project in Sofia and Beograd. Since then the two performers kept their artistic relationship and developed original style combining acoustic music with electronics, text and performance. The musicians are intrigued by instant composition/improvisation focusing on the vast border line between pre-structured elements (compositions) and responsive parts (improvisations) and they work simultaneously with both in respect to the performing space, audience and momentum.
Documentation video from Sofia Music Weeks festival 2012:
http://www.youtube.com/watch?v=InWCqZRvkdQ
Johansson/Heenan/Honsinger
Sven-Åke Johansson - drums, percussion
Tristan Honsinger - cello
Chris Heenan - contrabass clarinet, alto saxophone
Premiere of this outstanding trio of three influential musicians in the field of improvised music!
Sven-Åke Johansson is a composer and musician, poet and visual artist, writer and initiator of several music and performance art productions. He's a major stylistic forerunner within improvisational music. In the 60s, he developed a European form of freejazz. Ongoing cooperations with many musicians from the Echtzeitmusik scene.
Tristan Honsinger is a cello player active in free jazz and free improvisation. He is perhaps best known for his long-running collaboration with free jazz pianist Cecil Taylor and guitarist Derek Bailey.
Chris Heenan is an active composer/performer and organizer of experimental music. He performs on alto saxophone, contrabass clarinet and analog synthesizer in contexts ranging from solo to large groups and in various ongoing projects.
doors 8.30 pm
concert start 9.00 pm