THE WAKE by Xenia Taniko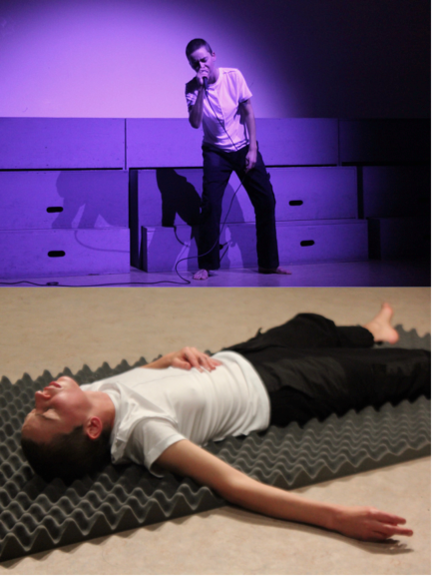 THE WAKE by Xenia Taniko
Performance: 20h
Doors & Tickets: 19h30
Entrance Fee: 5€
-----
In their immersive Solo performance, Taniko's body becomes a medium for a multiplicity of ghostly voices and expressions. An affective hybrid between movement and vocal performance, THE WAKE explores the threshold as a physical space and state. It investigates what happens if the threshold as a place of passage and in-between is inhabited as a place itself. What occurs in the liminal space between the conscious and the unconscious, the physical and the virtual world, a questionable past and an unknown future?
THE WAKE is based on a research project in co-authorship with choreographer Josefine Mühle entitled "UNDER THE DOME", that draws on mythologies of the Underworld Journey and a queered reading of C.G. Jung's concept of the Collective Unconscious. "UNDER THE DOME" works with self-induced altered states of consciousness to source unknown archetypes from the depth of the body.
THE WAKE was produced at ada studio and with the support of ausland Berlin.
-----
Xenia Taniko (b.1989) is an artist working in choreography and performance based in Berlin. In their work they use physical intensity in movement, voice, sound and props as visceral means to speculate about human embodiment and to critically examine the ways societal norms are inscribed in the body. Their artistic practice draws from cultures of collaboration and invests in building alternate creative communities. As performer, collaborator and assistant, they have worked with various international artists such as Martin Hasen Jess Curtis, Josefine Mühle, Roni Katz, Simone Aughterlony, Ania Nowak, Julia Gladstone, Hana Erdman, deufert&pliscke, among others. Their solo and collaborative pieces have been presented in theatres, galleries and festivals in Berlin (Sophiensaele, Uferstudios, Dock 11, ada studio, COVEN / nGbK, ausland), Leipzig (P-Bodies Festival) Amsterdam (Het Veem), Prague (BAZAAR Festival), Brussels (Volksroom, Galerie erg), Luxembourg (Art Week / Casino) and New York City (Judson Memorial Church/movement research, Rodi Gallery, Abrons Art Center). Since 2019 they are working as an audio describer for performances in the independent scene in order to make dance accessible for blind and visually impaired audiences. Xenia studied Politics and Philosophy in Leipzig and Paris, and is a graduate of HZT Berlin (BA Dance, Context, Choreography, 2016).