What's That Noise? – Listening Party & Podcast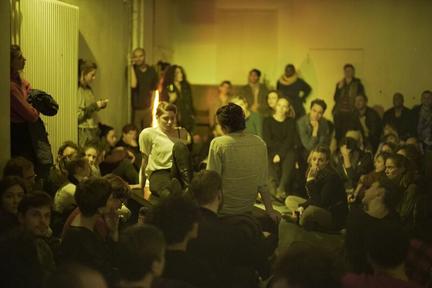 What's That Noise? – Listening Party & Podcast on Cashmere Radio!
-----information-----
In What's That Noise? artist Sandhya Daemgen invites you to an atmospheric listening party that weaves together live music, stories and recordings from select female* artists of the past, recognising and cherishing those female* musicians who pushed musical and societal boundaries and whose stories deserve to be heard.
What's That Noise? is an ongoing series started in 2015 and takes place in various art, performance and music spaces and festivals.
You can find the Live Streaming on Friday, May 8th, on the website https://cashmereradio.com at the following frequencies: 88,4fm Berlin, + 90,7fm Potsdam. In around a week, we will update the website with a link to the broadcast that you can hear after the live stream itself.
Due to Covid-19, What's That Noise? April edition in ausland, Berlin was cancelled. In an effort to support the featured artists and continue the series, we present here our first Radio Edition. Enjoy!
featuring:
Adelle Ngeto and Kelly O'Donohue
Katharina Hauke and Nguyên Baly
Moss Beynon Juckes
DJ Sapphic Faggot
For more information about the participating artists, please follow the link to their artist page below.
-----
What's That Noise? is supported by Musikfonds and by Beauftragten der Bundesregierung für Kultur und Medien.
*****
Due to the public health and security situation, all public events in ausland have been cancelled or postponed until further notice. We will continue to publish updated information on our website as soon as we know more. Until further notice, this applies to all upcoming events at ausland.
If you have any questions, please use our contact form: https://ausland.berlin/contact
ausland, March 14th 2020
Keep up solidarity - for example, by signing this petition:
https://www.openpetition.de/petition/online/hilfen-fuer-freiberufler-und-kuenstler-waehrend-des-corona-shutdowns-2