WILDERNESS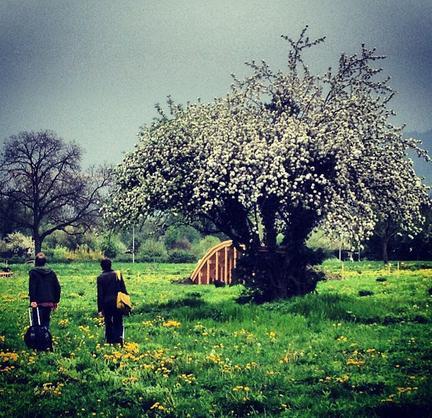 Ein Klang-Gedicht für das Ende der Welt: Zwischen Isolation und Zugehörigkeitsgefühlen bewohnen und verkörpern zwei Männer eine imaginäre, desolate Landschaft voller fantastischer Orte. Mal brutal, mal zärtlich durchstreifen Tommy Noonan und Thomas Jeker mit Gitarre und Mikrofon die Bruchstücke ihrer möglichen Erzählungen. Wilderness ist Konzert, Hörspiel, Tanzperformance und nicht zuletzt Lagerfeuergeschichte zweier Menschen, die eine Welt vor und nach der unseren erträumen.
CHOREOGRAFIE, MUSIK, PERFORMANCE Tommy Noonan, Thomas Jeker
BÜHNE, LICHT Carl Faber
KOSTÜM Sarah Marguier
Eine Koproduktion mit Theater Freiburg und Kanton Solothurn. Mit freundlicher Unterstützung der Tanzfabrik Berlin.
Biographie
Tommy Noonan
Tommy Noonan holds a B.A. in English from Vassar College, USA. In 2006 he was awarded a DanceWEB scholarship in Vienna. Between 2006 and 2010, he was based in Freiburg, Germany, directing and performing with "pvc-Tanz". He has helped to co-found the international artist network and project: Sweet and Tender Collaborations, and is currently based in Berlin as a freelance director and performer.
His work has been presented extensively throughout Germany, France, Portugal, Poland, Switzerland, Austria, Spain and Mexico. In 2008 he was a finalist for the Rolex Mentor and Protogé Arts Initiative in the field of Dance; in 2009 he was a contributor to Forum PRISMA in Mexico City. Tommy has written texts for publication in Revisita Obscena (Portugal) and Freies Theater Journal (Austria) and the Performance Journal (New York City). His lecture: "Disorganized Organization", was given in Istanbul for Team Network's 2008 symposium on cultural management, with support from the Goethe Institute.

Tommy has collaborated as a performer together with Grayson Millwood and Gavin Webber in the creation of "Food Chain", which premiered in Australia's Sydney Festival in January 2011 as well as with with Dennis Deter and Tom Schneider. His research and work in public space performance has been seen in the collaboration: "Area", with Georg Hobmeier, as well as in his work: "Labyrinth", which took place between Argentina, Germany and Austria. His conversations on performance and public space have appeared in the acclaimed: "Guidebook of Alternative Nows".

Recently, he directed "The Engagement" for the Maxim Gorki Theater's Heinrich von Kleist festival in Berlin and has also created a new choreography: "What Doesn't Work". More info: www.tommynoonan.net
------

Thomas Jeker
*1972 Basel/Switzerland is a musician and composer playing Concerts, creating music for Dance and Theatre and for movies.
He studied Guitar and Contrabass at the Conservatories in Basel and Bern. Since 2001 he playes Shakuhachi. From 2003 on Thomas Jeker started to work as a Composer, Musician and Performer for different Dance and Theatre Productions, Videoart and Movies. He worked with Directors and Choreographers as Odile Duboc, Joachim Schlömer, Felicitas Brucker, Mapateatro, Su-mi Jang/Berlin, Daniel Jaber/ Adelaide, and for the Documentary movie "like a Butterfly" from Frank Neveu/la Salamandre, using different instruments and electronics. His works wore performed in different Festival and Theatres such as Theatre de la Ville, Staatstheater Hannover, Theater Freiburg, Festival Iberoamericano and others.
Thomas Jeker is currently in residency in the Cité des Arts Paris for 2013. More info: www.thomasjeker.ch