Marcel Türkowsky
Submitted by Anonymous on Wed, 2010-12-08 14:42.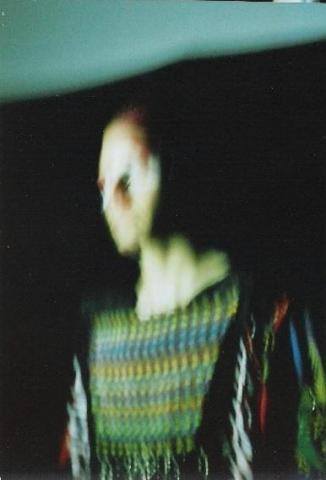 "Hold right hand, cupped near right ear; turn hand back and forth slightly with wrist. Bring left hand to opposite eye with the second finger pointing in the direction one is looking. With index and thumb of right hand, form an incomplete circle, space of one inch between tips; hold hand towards the earth, then move it in a curve across the heavens and back toward the horizon."
"Marcel Türkowsky (*1978 in former East Berlin, East Germany), artist, stage performer, composer, and writer combining the worlds of the eye and the ear. After several years with philosophy/musicology at Humboldt University, he recieved a M A from the Academy of the Arts (UDK) (Soundstudies), Berlin, Germany in 2008. He lives and works in Berlin.
From 2002 - 2008 he founded and collaborated with different free thinking performance groups like Kinn (with F.s. Blumm) Snake Figures Arkestra (with Ignaz Schick), Wooden Veil, Datashock etc... toured extensively in international territories and is still actively performing with the Duo Cavaliere & Türkowsky.
Since 2008 he is introducing a poetic anthropologic/philosophical semi fiction by way of installations, films, environments,music, sound/recording projects, partitioned codes, objects and performances that feature (non) fictional backgrounds often related to autobiographical experiences. Adressing cultural acts, his works are a series of stories with and across the arts, using metaphysics to map out areas of actions, memories and object worlds, creating questions of colliding polarities, bound between contexts of history and culture. Constantly requestioning social political hierarchies/geo political narrations and methods of anthropology and the boundaries of altered states of perceptual experience and reality, the spectrum of content by visual, sound and narrative examinations touch different fields, such as the dimensions of game, theater, cinema, musicology, the timeless archeology, ethnology and the unpredictable forgery of myth. Suggesting possibilities to reconsider the miraculous elements of Utopia and Tropicalia.
His musical works, often relate to his visual installations, visionary stories - texts - codes or a stage performances and usually unfold pieces over a long duration of time. Inspired by Walter Marchetti´s thought of freeing oneself from "Cages` cage" the sound and music pieces aim to unfold questions on the musical act and experience. The verticality, the diffusion of sound, its ubiquity, music for everybodies own time interlinking to create musical experience across a wide social field beyond the needs of capitalistic categorization. Not finding a solution rather finding the place were aural perception enters "into the other side" challenging the wide range of perceptive listening, the involvement of space (with presented objects and performances) and possible instructions for
public interaction to become a body without an eye and an ear without a body.
Lover of happening, Defender of accident Marcel Türkowsky is interested in collaborations with other cultural makers. Results often turn into performances, audio/book projects, installations or productive misunderstandings.
Since 2008 Marcel Türkowsky ´s works have been presented at many festivals and contemporary art spaces: Lieber Künstler, Erzähle Mir! Kunstverein Hildesheim, Void of Memory Platform 2009 Kimusa/Artsonje Seoul, Insiders CAPC musée d'art contemporain de Bordeaux, Centre d´art contemporain la Synagogue de Delme, Extrapool Nijmegen, Blurred Edges Hamburg, Transmediale Berlin, Neuer Berliner Kunstverein, Festival Sonorities, Montpellier, Full Pull Malmö, Phonoramatico Galerie Mario Mazzoli Berlin, Neuer Saarbrücker Kunstverein, Kunsthaus Hamburg, Haus der Kulturen der Welt, St. Johannes-Evangelist Kirche, Grimmuseum Berlin, Centre d`art contemporian Chelles, Styx Projects, Uqubar Berlin, Brandenburgischer Kunstverein Potsdam, Netmage 10 Bologna, Center for Contemporary Art Torun, 22nd International Film Festival FID Marseille, Moderna Galerija / Museum of Modern Art Ljubljana, etc...
Elise Florenty & Marcel Türkowsky:
The point of view of the abnormal, the counter-example, the misunderstanding and the «minor» always seems to him the most accurate point of view to adopt in order to express the possibles, the promises and the other positive statements of life.
Together with Elise Florenty he is looking for stories, spells and curses questioning the power of language and its repertoire of poetic and historic-political weapons. Among other, their pieces like "Berlins Last Tape", "Kreisel.Dreidel", "Lucid Sleep (1st Time Chance, 2nd Time Coincidence, 3rd Time Resulf of a Plan)", and "How To Make the Pipes Speak" manifest idiosyncratic narratives where silences, secrets and crypted signs are in constant circular conversation. In the space - as in their latest installation "You Know Something They Don't Know" - the set-up often articulates the ambivalence of the characters presence and absence with their disembodied voices and particular attitudes and positions. By making stories (oral or written, sometimes filmic, sometimes performed, as during the carnival), men create moments put in brackets of reality in which the participants and thus the facts and the outcomes, of history can reverse themselves, for a short time. If they are not effective, they have the merit to reactivate figures of history, to unfold them. These are these moments of resistances which Florenty/Türkowksy want to collect and to crystallize.
So far they had three prolific solo shows "Memory Wheels" at Centre d`art contemporain la Synagogue de Delme (France), "Life Ticket" at Centre d´art contemporain Les Églises (France) and in 2010/11 "You Know Something That They Don´t Know" at Brandenburgischer Kunstverein Potsdam (Germany). (Text by Zheni Jerofsky)
Whistle, Minotaure!:
He is founder (with Francesco Cavalere) of the series Whistle, Minotaure! initiating exhibtions, lectures, and happenings activating an intersection between fine art, music and anthropology - collaborations with Sam Ashley, Invernomuto, Eric Bünger, Henry Flynt, Catherine Christer Hennix, etc...He runs the Harpokrates Edition.
Francesco Cavaliere & Marcel Türkowsky :
With their first encounter, Francesco Cavaliere & Marcel Türkowsky immediately shared a fascination for the meaning of musical experience and the question of the musical act within different cultural contexts. Their use of specific objects referring to stories from the process of working together and the idiosyncratic approaches constantly push them to cross the river that seperates music and fine art, to leave new bridges behind. Cavaliere & Türkowsky, inspired by the Walter Marchetti thought of freeing oneself from 'Cage's cage', create works in the fields of music, performance, visual art, dance and archeology.
In 2010 they appeared at the Netmage 10 Festival in Bologna organized by xing and realized "The Wire Bridge" in collaboration with Francesco Cavaliere. The continuation is the "Mirror Trance" Performance, dealing with a symbiotic form of parallelism presenting different scored actions featuring various kinds of partitioned operational soundtheaters with puzzling imitation actions." They also performed at Galerie Mario Mazzoli Berlin, Extrapool Nijmegen, Contemporary Artcenter Torun, Neuer Saarbrücker Kunstverein and many other project and underground spaces.