Occulto Fest 2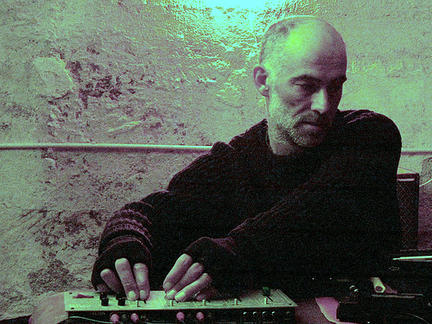 La Gioiosa Macchina da Guerra in collaboration with AC Galerie and Occulto praesentieren:
OCCULTO FEST
A two day festival. A series of sound performances. A video screening. A workshop.
weitere Infos hier:
http://lagioiosamacchinadaguerra.wordpress.com/
Gegen Ende der 1970er Jahre stellte Sam Wagstaff eine umfangreiche, photographische Sammlung zusammen, bestehend aus zwischen 1870 und den 1930er Jahren entstandenen Aufnahmen, darunter die Geisterportraits von Mumler, die Experimente Kirlian, Darget's Gedankenablichtungen, und weitere Arbeiten derjenigen Pioniere, die sich der Sache der photographischen Ueberfuehrung uebernatuerlicher Kraefte und Phaenomene verschrieben hatten. Bei diesen Bildern handelt es sich, ganz abgesehen ihres historischen und ethnograpischen Interesses, um hoechst suggestive, abstrakte Werke; seine Sammelleidenschaft ruehrte nicht zuletzt daher, so Wagstaff, dem eigenen Verlangen nach "Versenkung" nachzugeben, sowie dem "Vergnuegen zu sehen - so als ob man Menschen durchs Fenster beim Tanzen zusaehe."
Mit ganz aehnlichen Hoffnungen und Aengsten war es dann auch, dass Andere den Versuch wagten, mit nicht-menschlichen Dimensionen in Kontakt zu treten: deren Experiemente wurden nicht zuletzt bekannt als "electronic voice phenomena" (EVP), stimmhafte Klaenge, deren Ursprung sich jedoch nicht auf intentionale Tonaufnahmen und -zeichnungen zurueckfuehren liess. Schon eher war man geneigt, ihren Grund im Paranormalen zu verorten oder sie als Materialisierung des Unbewussten zu deklarieren; oder aber, sie als Humbug zu entlarven.
Auch William Burroughs' Kurzgeschichte It Belongs to the Cucumbers verfolgt die Resonanzen und Aehnlichkeiten zwischen Burroughs' eigenen Techniken des Schreibens - "cut-up" - und den "Geisterstimmen" eines Raudive, und erschuf damit ganz bewusst eine mysterioese Aura des unbewusst- kreativen Schaffens; und ganz aehnliches liesse sich ueber die Akusmatische Musik berichten, und vielleicht ueberhaupt, vom kuenstlerischen Experimentieren.
Kunst- und Klangforschung birgt oftmals Ueberraschungen nicht nur fuer den(die) Betrachter(in)/Hoerer(in), sondern auch fuer den/die Kunstschaffende/n selbst. Unvorhergesehenes, Stoerung, Verzerrung und Abweichung sind immer schon wesentlicher Bestandsteil eines jeden kreativen und intellektuellen Prozesses. Manchmal allerdings bilden sie Teil eines Projekts ganz ausdruecklich und von Anfang an. John Cassevetes' Regiedebut Shadows etwa laesst den Schauspielern gezielt Freiraum zur Improvisation – eher unerhoert in Hollywood, aber typisch fuer die Italienische Comedy of Art. Shadows spuerte auf unkomplizierte und erhellende Weise der Problematik interkultureller Beziehungen nach und lieferte, ganz nebenbei, wohl eine der besten Familienfehden in der Geschichte des Films.
Occulto Fest fuehrt Kuenstler und Musiker zusammen, die genau jene ungewoehnlichen, abseitigen und abwegigen Strategien der Materialsammlung und -verwendung verfolgen - seien es Klangaufnahmen, wissenschaftliche Daten, Programmiersprachen, Romane, Schaltkreise oder Bilder aufgetrieben im Netz. Und damit nicht genug: es sind solche, die dies tun mit einigem Humor, mit grosser Fertigkeit, und mit dem kritischen Anspruch, welcher immer schon Herzstueck einer jeden DIY Philosophie ist, oder sein sollte. Occulto Fest dreht sich, mittles Musik, Video, und anderen Medien, um das Erforschen und Erfahren eines Zwischenraums von wissenschaftlichem Experiment, Staunen, Betrug, unterschwelliger Einflussnahme und nuechterner Wirklichkeit.
Alice Cannavà und Federica Rossella
Das Programm:
PAPIER Präsentation der AC Galerie Drucksache: Occulto #0, Sie Leben, Case da disabitare.
Occulto verschreibt sich der Erforschung neuer Moeglichkeiten der Wissenschaftskommuniation, speziell in Verbindung mit den Bildenden Künsten und des Parawissenschaftlichen.
Mit Issue One (erhältlich ab Mai 2011) wird Occulto zum Buch: Mit Geschichten von
Urintests und Arbeitsverhältnissen; von Seegurken und Magnetresonanztomographie; von Oszillationen in Nervenwissenschaft und elektronischer Musik; von schwindelerregenden Theorien über das Heilpotential systematischer Bluttransfusionen; von möglichen Anwendungen wissenschaftlicher Prinzipien auf die Wirtschaft; vom Unheil wissenschaftlichen Analphabetismus im 20.Jahrhundert; und von vielen mehr. Occulto wird verlegt vom AC Verlag und erscheint einmal jaehrlich.
http://www.occultomagazine.com
http://www.ac-galerie.net
SOUND PERFORMANCES
Lifeloop reel tapes, (IE)
testcard, brain machine, EVP (UK)
throuRoof ambient, EVP (IT/DE)
Marcel Türkowsky and Francesco Cavaliere mirror performance (DE/IT)
Rinus Van Alebeek field recordings (NL/DE)
VIDEO SCREENING