ausland juke joint special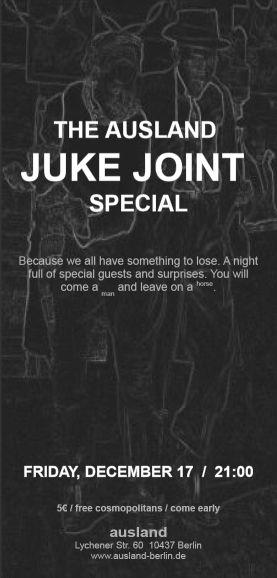 The ausland Juke Joint Special
presents:
Because we all have something to lose. A night full of special guests and surprises. You will come a man and leave on a horse.
Weil wir alle etwas zu verlieren haben. Eine Nacht randvoll mit besonderen Gästen und Überraschungen. Der achte Geburtstag des ausland. Die Record Release Show zur neuen Vinyl-Single von Big Daddy Mugglestone. Die letzte Nacht der Saison. Unser Geschenk an alle Ausländerinnen und Ausländer und an die, die es werden wollen. Wie schon gesagt: You will come a man and leave on a horse.
With:
CANOU (Marcel Türkowsky, Michael Northam, Francesco Cavaliere)
T.SCHLOPSNIES
MARGARETH K. & BORIS HAUF (Margareth Kammerer feat. Boris Hauf)
MUGGLESTONE REVUE (Record Release der neuen Vinyl Single von Big Daddy Mugglestone and his Cheap Paper Toys // feat. Margareth Kammerer, Marzipan Marzipan, Brian Kiel & Ian Douglas-Moore)
MARZIPAN MARZIPAN (feat. Big Daddy Mugglestone und Johnny Johnny)
BRÖCKEL (T.H.Bröckel, M.M.Bröckel, R.H.Bröckel)
THE SACRED TRAVELLERS (Premiere / Big Daddy Mugglestone, T.H.Bröckel, Brian Kiel, Ian Douglas-Moore, Rosanna Lovell, Suki Osman, Christina Ertl-Shirley, Michael Northam, Nick Gotthard, T.Schlopsnies, Lady Spice Spice)
EICHEL
SUKI OSMAN
SQUID LIBETS (Janja Pervan, Zelda Panda, Johanna Olausson, Raliza Nikolowa)
DJ FETT
VISOMAT
The ausland Juke Joint special wird kuratiert und organisiert von Aaron Snyder und Tobias Hassels. Sound: Elisabeth Enke und Team. Cosmopolitan-Bar: Conrad Noack und Ruth Waldeyer. Licht: Ruth Waldeyer. Bar und Eintritt: Team ausland. Much love and respect to everyone involved!
This event will be streamed live on Dec 17, starting at 9pm. Tune in if you can't make it to ausland, e.g. if you're in Buenos Aires, Tokyo or Novosibirsk.
more information about the participating artists: