Andrea Neumann + Sophie Agnel // R.A.N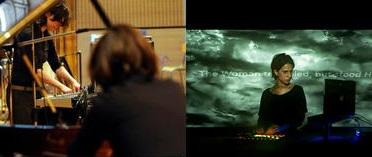 Andrea Neumann + Sophie Agnel - duo -
Andrea Neumann - inside piano, mixing board
Sophie Agnel - piano
femmes-savantes.net/andrea-neumann
sophieagnel.com
R.A.N aka Roads at Night - solo -
the dark ambient, electronic music project of Hüma Utku
roadsatnight.com
soundcloud.com/roadsatnightofficial
Doors 20:00, start 20:30 | Donation 5 ≤ 9€ | @facebook
Andrea Neumann and Sophie Agnel have explored the sonic possibilities of the piano since the mid-nineties. While Agnel used the keys, strings, and wood paneling, Neumann reduced her instrument to strings, resonance board and metal frame, reinforced by mixers and pick-ups.
The first duo concert took place in Metz in 1999. Since then joint collaborations with J. Noetinger and L. Machetti and with Bertrand Gauguet. With this trio (Agnel, Gauguet, Neumann) concerts in Albi, Metz, Mulhouse.CD recording 2009 "Spiral Input" (another timbre).
R.A.N (Roads at Night) is the dark ambient, electronic music project of Istanbul born, Berlin based artist Hüma Utku.Considering the notion of time in our era, where all is fast and blurred, R.A.N is a journey of slowly contemplating on our surroundings. Turbulence and introversion are in the core of the sounds. Born as a result of leaving Home – R.A.N generates a new entity, where one loses the self to embark on further explorations.